Event Aims to Aid Health Care Professionals, Caregivers, and Individuals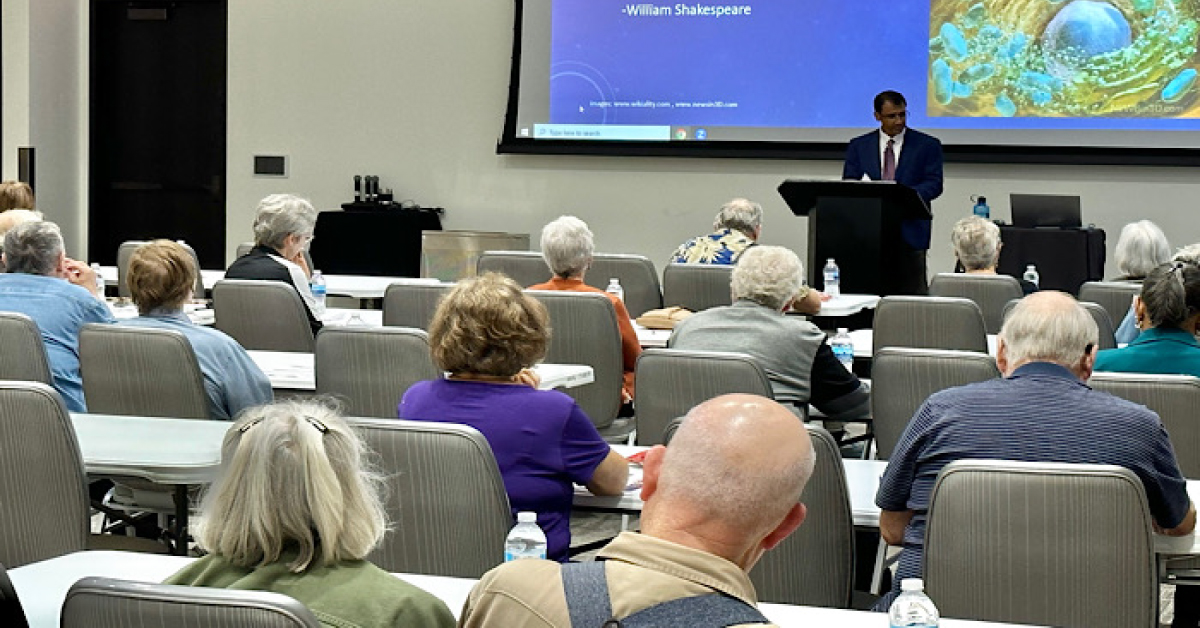 The Centers for Disease Control and Prevention reports in 2023, 6.7 million Americans are living with Alzheimer's disease. By 2060, the number is projected to top 14 million. Alzheimer's is the most common form of dementia. Annually, it takes more lives than breast and prostate cancer combined.
To spotlight and address the challenges posed by this disease, the Texas Tech University Health Sciences Center (TTUHSC) Garrison Institute on Aging will host several events in November as part of National Alzheimer's Disease Awareness Month. The designation was set by a proclamation in 1983 by President Ronald Reagan to foster awareness and catalyze action against Alzheimer's disease.
"Alzheimer's disease not only causes memory loss and mood and personality changes in patients but also takes a toll on caregivers," said Volker Neugebauer, M.D., Ph.D., executive director and chief scientific officer of the Garrison Institute on Aging. "The causes of Alzheimer's disease are still not fully understood, but they include a combination of changes in the brain and genetic, environmental and lifestyle factors. The goal of the Garrison Institute on Aging's activities for National Alzheimer's Disease Awareness Month is to inform the community about the disease, early diagnosis, prevention and coping strategies," Neugebauer said.
Events include:
Presentation for caregivers, health care providers, academics and individuals:
Distinguished gerontologist and author Tam Cummings, Ph.D. will be the keynote speaker for the 4th Annual Alzheimer's Awareness Symposium from 8:30 a.m. to 3 p.m. on Nov. 9 at the TTUHSC Academic Event Center, 3601 Fourth St. Her presentation, "The Nine Common Dementias," will focus on the characteristics of each and how they are diagnosed. Community vendors also will be in attendance. Reservations must be made by Nov. 7 for the free public event, which includes lunch. Reservations can be made by calling 806-743-7821 or emailing GIA@ttuhsc.edu.
Presentations for caregivers:
November's Garrison Institute on Aging Care Partner Academy discussion topic will be "Improving Caregiving Burden, Stress and Pre-Death Grief in Family." The free public event will be from noon to 1 p.m. on Nov. 2 at the Garrison Institute on Aging southwest campus, 6630 Quaker Ave.
The Garrison Institute on Aging's monthly Healthy Aging Lecture series topic will be "Wills, Trusts, Probate and Elder Law." The free public event will be from 3 p.m. to 4 p.m. on Nov. 15 at Carillon Senior Living, Windsong building, 1717 Norfolk Ave.
Presentation for health care professionals and academics:
The Garrison Institute on Aging, along with the TTUHSC Center for Excellence for Translational Neuroscience and Therapeutics and the TTUHSC School of Medicine's Department of Pharmacology and Neuroscience, will present a free lecture entitled, "Neurodegeneration Research: Crossing Borders for Equity," by Gladys Maestre, Ph.D., professor of Neurosciences and Human Genetics and director of the Alzheimer's Disease Resource Center for Minority Aging Research at the University of Texas Rio Grande Valley. The seminar is part of the Translational Neuroscience and Pharmacology Lecture Series. It will be from noon to 1 p.m. on Nov. 7 in the TTUHSC Academic Classroom Building, 3601 Fourth St. For more information including a Zoom link, contact the Garrison Institute on Aging at 806-743-7821 or email GIA@ttuhsc.edu.
The Garrison Institute on Aging is the keystone of the TTUHSC collaborative initiative for healthy aging and brain health to help seniors successfully approach and extend their years of quality life. From investigating the causes of neurodegenerative diseases and dementia to serving the community through outreach and education programs, the Garrison Institute on Aging is addressing health issues of the aging population.