TTUHSC Medical Student Selected as One of 12 Nationally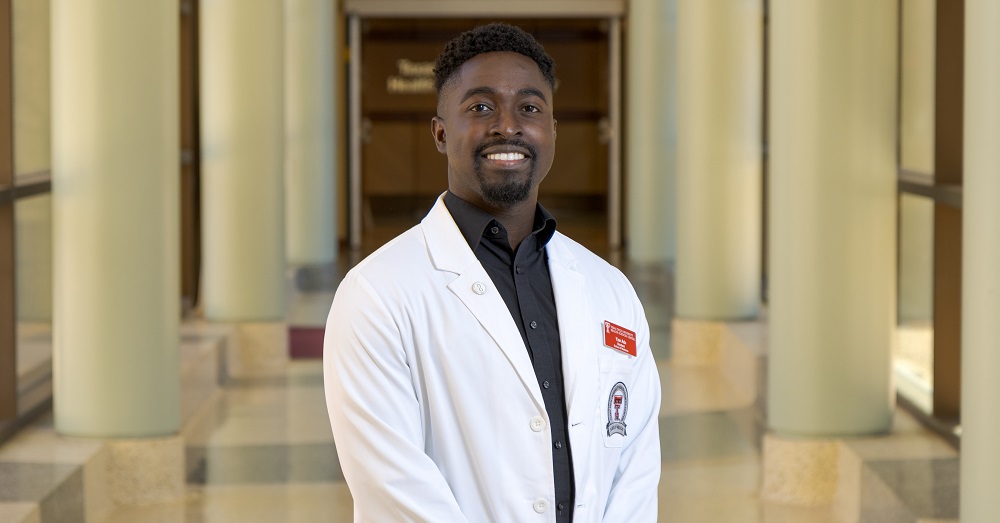 The International Myeloma Foundation (IMF) and the W. Montague Cobb/NMA Health Institute's Cobb Scholars Program has selected Yaw Adu, a Texas Tech University Health Sciences Center (TTUHSC) School of Medicine student, for the Medical Student Scholars for Health Equity in Myeloma Mentoring Program.
The IMF and the W. Montague Cobb/NMA Health Institute's Cobb Scholars Program partnered for the program to address health disparities in myeloma, specifically in the African American community, to bring together a network dedicated to health equity in myeloma. The program chose 12 African American students from various universities around the country.
"We are proud of Yaw's contributions as a student leader, especially with our SNMA chapter and The Free Clinic," Steven L. Berk, M.D., TTUHSC executive vice president and School of Medicine dean, said. "We look forward to the achievements and breakthroughs he makes in the field of oncology research."
Adu has served in TTUHSC School of Medicine organizations that are committed to supporting underrepresented minority medical students and underserved communities. He served as a member of the leadership team at The Free Clinic where he helped provide quality care to uninsured patients from the West Texas region and was the co-president of the Student National Medical Association chapter. As the president of the Barbershop Blood Pressure organization, he helped provide free blood pressure checks at barber shops across Lubbock with the goal of enhancing cardiovascular health. He is a student ambassador for the Office of Diversity, Equity and Inclusion and a recipient of the Multicultural Faculty/Staff Association Scholarship.
Multiple myeloma is a cancer that forms in a type of white blood cell called a plasma cell. Healthy plasma cells help the body fight infections by making antibodies. In multiple myeloma, cancerous plasma cells accumulate in the bone marrow and uproot healthy blood cells.
Each student in the IMF and the W. Montague Cobb/NMA Health Institute's Cobb Scholars Program is paired with a myeloma expert to conduct research over health disparities in myeloma. Sikander Ailawadhi, M.D., will serve as Adu's mentor. Ailawadhi is an oncologist in the hematology department at Mayo Clinic in Jacksonville, Florida.
The 12 students will present their projects at the Annual Meeting of the National Medical Association in New Orleans in July.