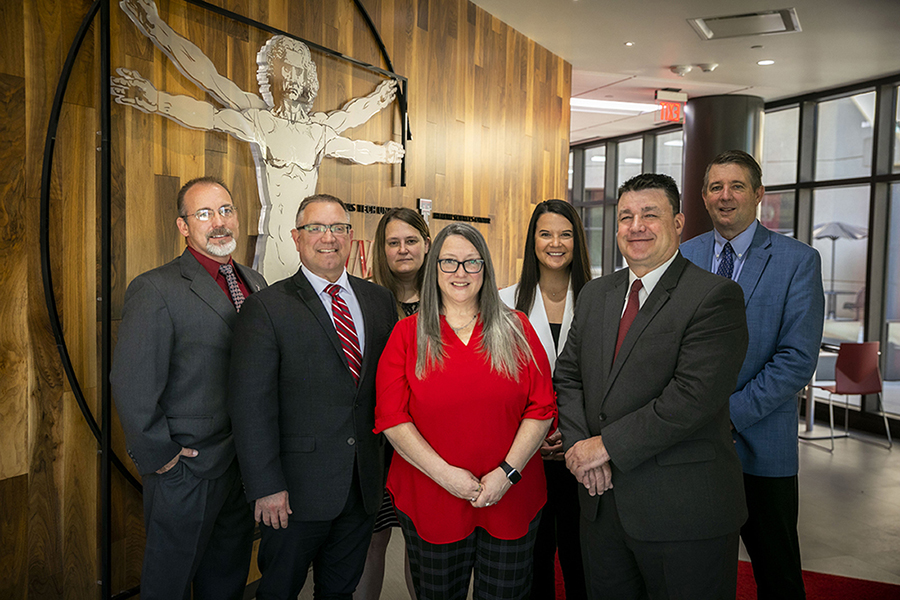 Just three years ago, Texas Tech University Health Sciences Center (TTUHSC) opened the only anatomical sciences institute in Texas: a 19,000-square foot facility supporting the university's Anatomical Sciences Program. The foundation of the TTUHSC Institute of Anatomical Sciences (IAS) was built on the university's Willed Body Program, which has been a crucial part of West Texas health care education since 1972.
On Memorial Day each May, a service is conducted to pay respect to the Willed Body Program donors and their families. Over the last few years, TTUHSC had to hold this unique service virtually, due to occupancy and capacity limits in the midst of the pandemic. 2023 is the first year the memorial event will return to in-person services.
"It is significant that we are returning to an in-person memorial, as it creates a real and tangible way for families and willed body donors to be honored for their gift," said Kerry Gilbert, PT, Sc.D., assistant dean for anatomy, research and education at TTUHSC and Co-Director for IAS. "It also helps family and friends receive some closure to the grieving process as many have chosen to receive their loved one's cremated remains back into their family."
Jason Jones, Willed Body Program director, explained that the Willed Body Memorial service has always been the center point of closure regarding the whole body donation choice. The service brings closure for family, students, faculty and staff.
"The family may or may not have understood or even agreed with their loved one's decision to donate their body to science and forgo a more traditional route such as a funeral with burial or cremation," Jones said. "The in-person service allows the donor families, students and faculty to establish a human connection regarding their experience and feelings, while giving a better understanding of why and how: why their family member chose donation, and how impactful this gift is to the next generation."
The service is an opportunity to memorialize those that have donated their bodies in the last calendar year and to honor them with friends and family. The memorial service is conducted by TTUHSC IAS and Willed Body Program, allowing the TTUHSC community to express gratitude for what the donors generously provide. Many students get to share meaningful moments—not only for education and research but how these donations open the doors to personal growth for future clinicians, who grow a newfound sense of respect and compassion for patients.
By providing a memorial service for donor families to hear from the students who benefited from their loved one's gift, families can gain a better understanding of the donation process and what their donation really means on a larger scale.
"The Institute of Anatomical Sciences is an amazing facility—but without the gracious gifts of the willed body donors, there would be no activity within the IAS," said Gilbert. "There would be no learning, no research, and no clinical skill training. Without the willed body donors we could not accomplish our mission."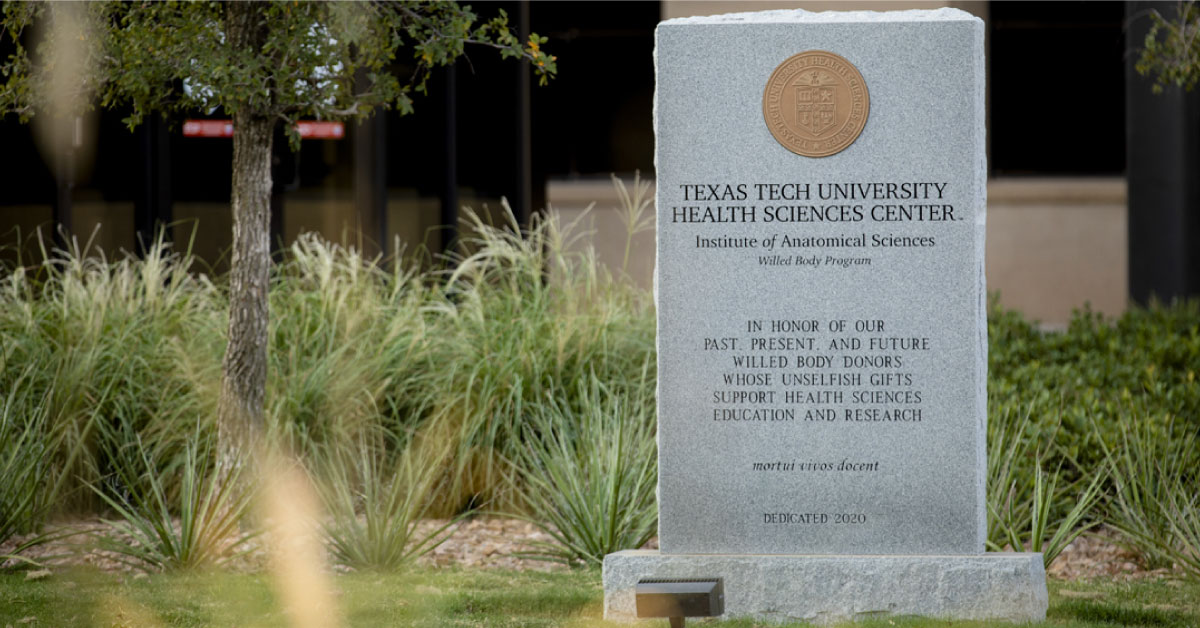 TTUHSC's Willed Body Program is not the only one in Texas (there are 11 willed body programs across the state, all housed within a health related institution and governed by the Anatomical Board of the State of Texas), but TTUHSC's Willed Body Program holds the responsibility of covering a larger geographic area than most of the other programs, many of which are generally concentrated in more densely populated parts of the state such as the Dallas-Fort Worth, Houston, and San Antonio areas.
When students begin their education at the IAS, each dissection group of four to five students is assigned a donor cadaver. However, students' access to the donor cadavers is not limited to only one donor. This allows each student to study the structure and anatomy of donors with a wide range of medical conditions and disorders, broadening the scope of their training.
"This type of experience will resonate with the student for the rest of their professional career and help mold them into the medical professional they will become—one day serving many of us and our families," said Jones. "We also provide an opportunity for medical professionals already serving our region to hone their skills and research new treatment techniques, better serving their patients through the generosity of our whole body donors."
At the conclusion of the course, each donor body is cremated. The remains are then returned to the families who have elected to receive them. Unclaimed or unreturned remains are commingled in TTUHSC's ossuary. The lessons provided to future clinicians, however, live on and continue to make a difference.
With the Willed Body Memorial Service, the program aims to honor and give thanks to the individuals who donated and their families. As it continues to provide training, research, and education, the IAS seeks to fulfill the wishes of donors with transparency and respect.
"Without these donations, we could not as effectively educate our next generation of health care professionals," said Jones.
To those who donate and their families, the IAS expressed only tremendous gratitude.
"Thank you to the families," Gilbert said, "for their loved one's generosity toward the health sciences. Students from many disciplines learn from these donations and we are very thankful."
Jones added that their office is available by phone or email for any questions about the TTUHSC-IAS Willed Body Program. Groups and organizations may also arrange for a presentation about the program.
"There are no questions that we will not answer for you," Jones said.
The Willed Body Memorial Services are open to the public and any who wish to join are welcome.