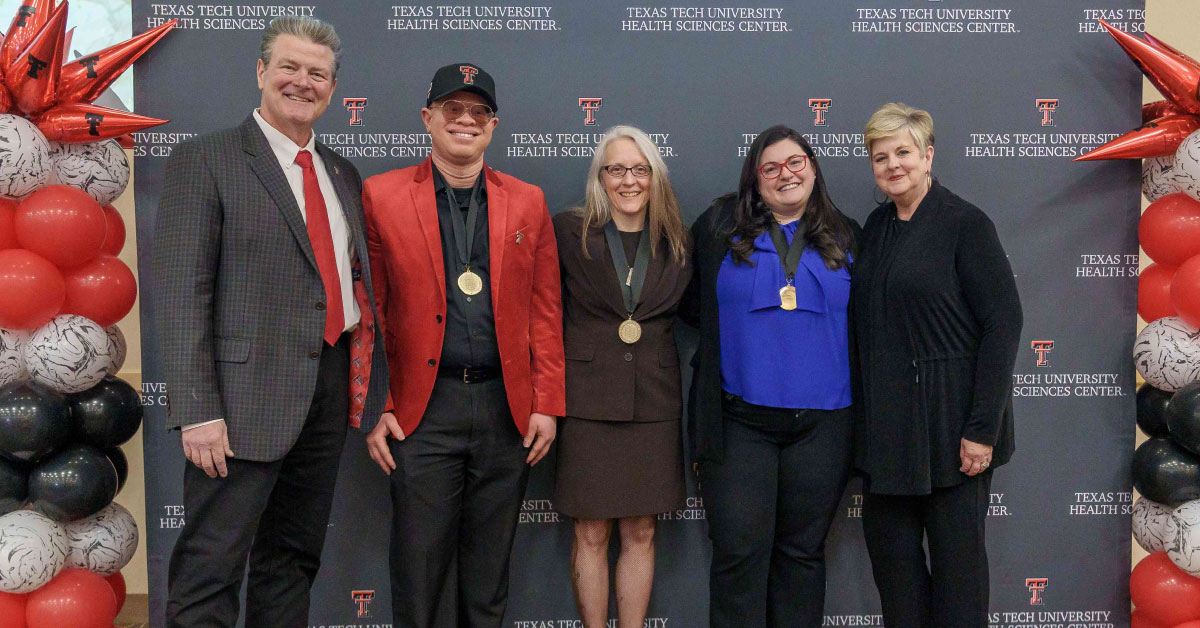 In March of this year, TTUHSC experts were honored with the Chancellor's Council Distinguished Teaching & Research Awards, which recognized the academic excellence of faculty throughout the Texas Tech University System (TTU System).
Presented by TTU System Chancellor Tedd L. Mitchell, M.D., Texas Tech University Health Sciences Center (TTUHSC) President Lori Rice-Spearman, Ph.D., and TTUHSC Provost and Chief Academic Officer Darrin D'Agostino, D.O., these recognitions highlight the TTU System's world-class faculty and acknowledge the individuals who stand out within their fields—individuals who then pass that information onto their students, guiding a new generation of academic excellence.
More than just academics
The studies and teachings of this year's award recipients go beyond an academic pursuit. Their inspirations and motivations to chase this knowledge surpass personal achievement.
Duke Appiah, Ph.D., MPH, and Amy Stark, M.D., were honored with Distinguished Teaching Awards, while Jen Collins, Ph.D., R.N. was presented with a Distinguished Research Award. Each recipient uniquely embodies the university's values-based culture and uses their work to build upon the TTUHSC vision to transform health care through innovation and collaboration.
For these TTUHSC team members, it's not just what they do, but why they do it that matters. While the TTU System aimed to cast a spotlight on these individuals and their work, the honorees chose to cast that light onto others, sharing their humble gratitude toward those who helped, guided and inspired them as passionate individuals.
Duke Appiah: a close-knit support system with a big impact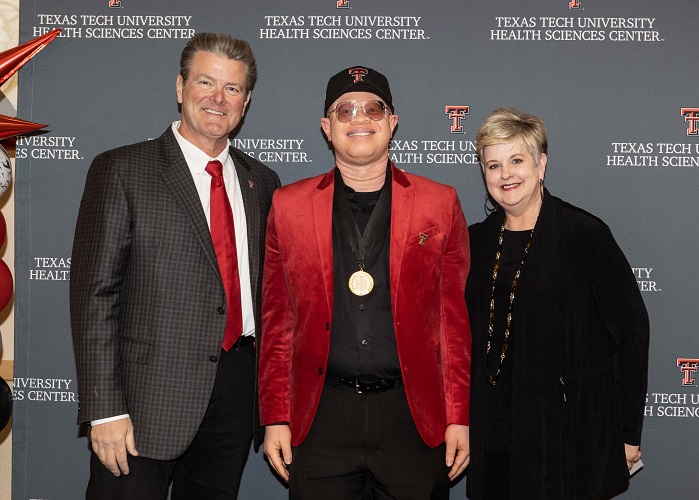 "It is a great honor for me to be a recipient of the Chancellor's Council Distinguished Teaching Award. I am very grateful to all the students that I taught over the years who make me a better teacher and researcher based on their questions, comments, suggestions and constructive criticisms.
"I thank the Chancellor's Council and the leadership of Texas Tech University Health Sciences Center for giving me a conducive environment to flourish and showcase my talents to make a positive, indelible mark on the lives of several people in and outside of this institution. I am grateful and appreciative of all the people who, out of the kindness of their hearts, took time out of their busy schedules to nominate and write recommendation letters for me for this award.
"Additionally, I would like to thank all of my teachers and mentors, who laid a good foundation for me and showed me the path to excellence in teaching and research. Furthermore, I would like to thank my colleagues, both faculty and staff, at the Department of Public Health for all of the support received over the past six years that I have been at this institution, and also for sharing in my joy and cheering me on to greater works.
"I have made a lot of sacrifices to get to where I am today and I'm forever grateful for the love, care and kindness that I have received from my close-knit friends who unwaveringly provide me with encouragements; my amazing parents who set high standards for me and provide me with the necessary tools to achieve them; my dependable siblings who inspire me to do more good for humanity; my adorable children who bring me so much joy and add balance to my life; and my lovely and compassionate wife who consistently reminds me to believe in myself and in my God-given abilities. There are many other people who, without my knowledge, have gone out of their way to do so much good for me and I would like to thank them as well.
"Finally, and most importantly, I give thanks to my Lord Jesus Christ, who gives me the strength to daily live out the purpose of my life, and taught me that success in life is not defined by what I gain, but it is defined by making positive impacts in the lives of others."
Duke Appiah, Ph.D., MPH, is an associate professor in the Julia Jones Matthews School of Population and Public Health. His work, which has been published in high-impact journals, has largely focused on understanding the etiology and prevention of chronic diseases with emphasis on women and underserved populations, as well as the intersection of infectious and chronic diseases on long-term health.
Amy Stark: fulfilling dreams with the help of her community
"I am humbled and honored to receive the Chancellor's Council Distinguished Teaching Award, and to be recognized for something that fills me with so much joy.
"My draw to academic medicine was never to be a renowned researcher, but rather it was rooted in my love of teaching. Being a teacher to so many has been an honor in and of itself. I am so proud of the small part I have been privileged to play in educating the physicians of the future.
"I am thankful to my students, who inspire me with their curiosity, drive and passion. I am thankful to my patients, who teach us what it is to be resilient. I am thankful to my community for the countless opportunities to serve and their willingness to do the work with me to break down the stigma around mental health and substance use disorders.
"I wouldn't be here without my own amazing teachers, colleagues and mentors who have inspired me over a lifetime and taught me what it means to be an educator. I hope I am carrying forward the legacy and lessons you have gifted to me.
"To my family (biological and chosen) who never wavered in their support even when I was missing in action, because that's life in healthcare—thank you for everything, I love you so much.
"To my coaches, teachers, professors, and mentors—thank you for pushing me past my comfort zone to achieve more than I ever believed possible. To my TTUHSC family—thank you for your support, and for being my home away from home."
Amy Stark, M.D., is an associate professor of psychiatry at the School of Medicine in Amarillo and is board certified in general and addiction psychiatry. She has received numerous teaching awards, but one of her proudest accomplishments is what medical students call the "Stark Effect:" kindling a passion for psychiatry and inspiring pursuit of a career in the field.
Jen Collins: appreciation for unrecognized communities
"I feel honored to receive this significant award. I attribute this award to individuals who often go unrecognized.
I offer gratitude to the First Nations for their care of and teachings about this earth, specifically, the traditional territory of the Jumanos, Tonkawa, Comanche, Lipan Apache, and Coahuiltecan, on whose land I work and live—countless individuals who were enslaved and whose efforts I will never know and soldiers who fought for my protection.
"Study collaborators shared their wisdom with me, including: young adults with foster care experience who persistently sought healthcare services despite barriers and those who worked endlessly to get a driver's license; adolescent men and women who shared their ongoing efforts to be in healthy relationships; adolescent men and their parents living in rural areas who kindly shared their journeys with addressing managing their weight.
"I thank teachers, colleagues and students, family and friends for wisdom and strength and without whom I would not be here. To God alone the glory."
Jen Collins, Ph.D., R.N., is a professor in the School of Nursing. Her research focus is community-based approaches to address inequities in social determinants of health among young adults, including those in foster care; those living in poverty and experiencing homelessness; and those involved with criminal justice systems. Her focus throughout her undergraduate, graduate and post-graduate career has been actively identifying and engaging key stakeholders and their communities to collaboratively address community-specific health needs.
While award recipients receive a $5,000 stipend and an engraved medallion, it is clear from their expressions of thankfulness that the tireless work necessary to make such an impact does not come from a desire for recognition. The humility and kindheartedness of these honorees is a key ingredient that makes their contributions matter—to TTUHSC's students and beyond.