The Texas Tech University Health Sciences Center (TTUHSC) recently hosted traditional commencement ceremonies for its 1,595-member Class of 2022. Graduates from the School of Nursing and the Graduate School of Biomedical Sciences received their diplomas May 6 and graduates from the School of Health Professions crossed the stage May 7. All three ceremonies were conducted at United Supermarkets Arena.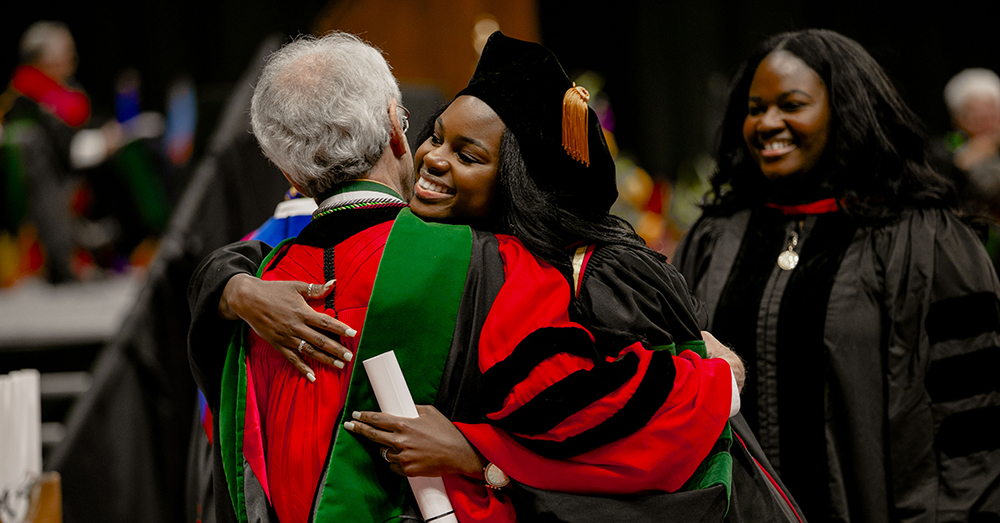 Class of 2022 members from the Jerry H. Hodge School of Pharmacy received their diplomas May 21 in a morning ceremony at Hodgetown Stadium in Amarillo, while the School of Medicine graduates were honored May 23 at United Supermarkets Arena.
"We are incredibly proud of our graduates across Texas Tech University Health Sciences Center who have completed a rigorous course of academic and clinical training in their fields of study and will now go on to transform health care," TTUHSC President Lori Rice-Spearman, Ph.D., said. "The Class of 2022 embodies the values that we instill as a university, and additionally, they confronted many unique challenges that have sharpened their perseverance. The TTUHSC family congratulates each graduate and we look forward to witnessing the impact they will make in society."
The School of Nursing graduated 443 students in its Class of 2022, which included online students who earned their degrees in the school's DNP, MSN and R.N. to BSN programs, and students who earned their traditional BSN degrees from the school's campuses in Abilene, Lubbock and the Permian Basin. Award winners from the '22 class included Jamie Hughes and Michelle Stemley (Excellence in Nursing Award, DNP Program), Robert Parke, FNP (Excellence in Nursing Award, MSN Program), Rowdie Adams (Excellence in Nursing Award, R.N. to BSN Program), William Rodriguez (Excellence in Nursing Award, Traditional BSN Program) and Shanice Francois (School of Nursing Dean's Leadership Award).
The Graduate School of Biomedical Sciences Class of 2022 consisted of 97 students, including 11 who earned their Ph.D. and 86 who received their master's degree. Itishree Kaushik was named the 2022 recipient of the K. Wyatt McMahon Outstanding Graduate Student Award. Other honorees included Ganesh Acharya (Dean's Recognition Award), Victoria Johnson (Outstanding Public Health Student) and Kaylee Schrader (United States Public Health Service Excellence in Public Health Award).
The School of Health Professions honored 748 graduates from across its five departments and 21 graduate and undergraduate programs. The school's Class of 2022 award honorees included Elizabeth Olayinka (Undergraduate Dean's Award), Rebecca Hall (Graduate Dean's Award) and Micah Lierly, Ph.D. (Dean's Award-Research).
The Jerry H. Hodge School of Pharmacy recognized the 127 members of its Class of 2022 who completed their degrees at the school's campuses in Abilene, Amarillo and Dallas. Madeline Scarbrough earned the school's top two honors: the Banner Bearer Award for having the highest GPA among the graduating class and the Bowl of Hygieia, the school's highest student honor that is presented annually to the graduate that best exemplifies the qualities of a fine pharmacist, including high ethics, compassion and commitment to the profession. She is the first graduate in the history of the school to earn both awards. Other pharmacy graduates recognized for their achievements included Ross Singletary (Wolters Kluwer Excellence in Clinical Communication Award), Scarbrough (Excellence in Geriatrics Award), Alyssa Teichman, (Community Outreach Award of Excellence), Lou Angeline Leano (Superior Patient Care Award), Karen Gonzales (Excellence in Community Practice Award), Kaylee Martin (Viatris Excellence in Pharmacy Award), Adolfo J.R. Olivarez III (Excellence in Ambulatory Care Award), Alexis Orozco (Excellence in Correctional Managed Care Award), Lillian Thai (Excellence in Inpatient Clinical Practice), Aaron Woodward (Excellence in Pediatrics Award) and Myla Bhakta (Hannah L. Thompson Perseverance Award).
The 2022 ceremony also was the final commencement as dean for Quentin Smith, Ph.D., who served as the school's second dean since 2012. He officially handed the school's leadership reins to Grace Kuo, Pharm.D., Ph.D., who began her tenure May 16.
The 180 members of the School of Medicine Class of 2022 received their diplomas at Lubbock's United Spirit Arena. Hunter Miears (Covenant campus) and Ryan Keck (Permian Basin campus) received the Dean's Recognition Award, and Angela Abraham (Amarillo campus) was named recipient of the Dean's Highest Academic Achievement Award and the John Aure Buesseler Memorial Award for student excellence. Seth Swinney earned the Gold Headed Cane Award as the individual selected jointly by students and faculty who best exemplifies those attributes that are most desirable in the competent and caring physician.