Ongoing research suggests that an accumulation of toxic reactive oxygen species (ROS) in the area of the brain known as the hippocampal dentate gyrus may begin early on in patients with Alzheimer's disease.
To gain additional insight into the potential relationship between ROS accumulation in the dentate gyrus and the onset of Alzheimer's disease, the National Institutes of Health recently awarded a five-year, $1.87 million grant to J. Josh Lawrence, Ph.D., from the Department of Pharmacology and Neuroscience at the Texas Tech University Health Sciences Center (TTUHSC) School of Medicine.
The grant, "Transcriptional Dysfunction in Dentate Gyrus Cell Types: Roles of Retinoic Acid Responsive Genes in Protection Against Alzheimer's Disease Pathogenesis," will allow Lawrence and his team to test his hypothesis that it is the depletion of an antioxidant known as all-trans retinoic acid (ATRA) within the dentate gyrus that promotes ROS toxicity.
Beta carotene, an antioxidant and a precursor to vitamin A, is broken down in the body and stored in the liver as retinol. However, ATRA is the active metabolite of retinol in the brain. With this in mind, Lawrence said the goal of the research is to use two different Alzheimer's disease mouse models to test his hypothesis that there is ATRA deficiency in the brain's learning and memory circuits during early stages of Alzheimer's disease.
"We predict that maintaining vitamin A sufficiency is going to essentially prevent or delay the onset of Alzheimer's disease," Lawrence added.
There are numerous published papers that have shown the first thing that happens in Alzheimer's patients is their brains develop an overactive dentate gyrus, which is the area of the brain known as the learning and memory center.
During this early stage of Alzheimer's disease, the ability to recognize novelty disappears, which happens when the dentate gyrus is overactive. Lawrence said it's almost like there's a seizure happening in this part of the hippocampus. A good example of this process is when a person can't find their car in a parking lot. Their own internal GPS is broken somehow; they can recall the parking lot where they left their car, but they don't remember the exact location, possibly due to seizure-like events happening in the dentate gyrus.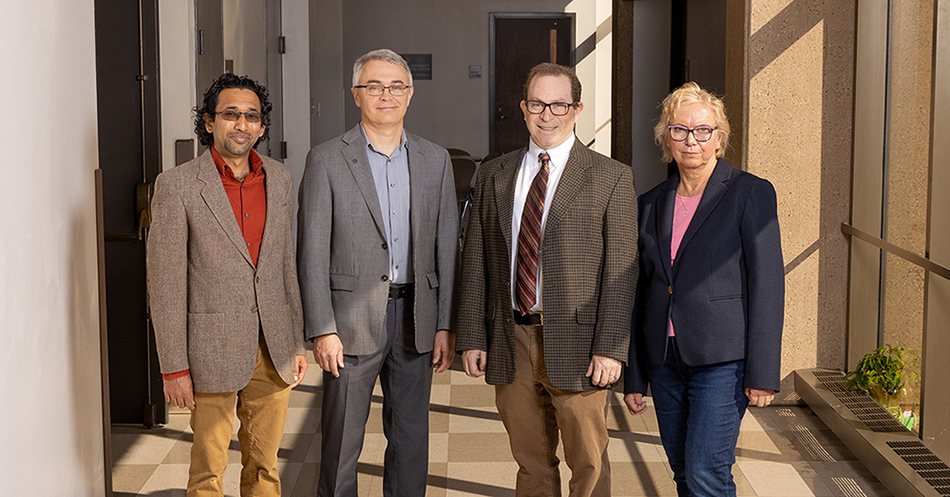 "We think this kind of seizure-like event is connected to the depletion of ATRA," Lawrence explained. "There's human evidence for that because, for example, ATRA and vitamin A have been measured in the blood of Alzheimer's patients, and they've been shown to be deficient compared to healthy people."
Because the research for this grant will delve into the molecular mechanisms that may be affecting the dentate gyrus and the depletion of ATRA, Lawrence said there are several benefits that could result from the project.
"We'll find out a lot more about specific genes that are dysregulated, and each one of those genes could be a druggable target that could certainly help the field of Alzheimer's disease. There really aren't many effective drugs out there," Lawrence pointed out.
A second potential benefit is that it may demonstrate that proper nutrition can become a potent prevention strategy for Alzheimer's disease. Lawrence said there are several diets, including the Mediterranean diet, that advocate eating foods high in vitamin A, such as certain fish (e.g., salmon, trout and tuna), organ meats (e.g., chicken liver, goose liver pate), eggs, cheeses (e.g., goat, cheddar and Camembert), vegetables (sweet potatoes, carrots, red peppers and many leafy greens), spices (especially paprika) and colored fruits such as mango, persimmon, cantaloupe, blood oranges and red grapefruit. Because vitamin A is fat soluble, Lawrence said the key is to pair foods rich in vitamin A with healthy oils such as olive oil.
"You could simply just make sure that you're eating enough vitamin A every day, and that could potentially lead to delayed onset of Alzheimer's disease and healthy aging," Lawrence suggested. "In America, we're eating all sorts of processed food and we have forgotten some of the cultural wisdom of various diets. Simply re-implementing some of that, getting the sugar out of our diet and bringing back healthy oils, which is part of the Mediterranean diet and other diets, could go a long ways toward maintaining cognition later in life."
Co-investigators for the grant, all from TTUHSC, include Igor Ponomarev, Ph.D., Jeremy Bailoo, Ph.D., and Maria Manczak, Ph.D. Other important contributors include TTUHSC graduate and medical students Robert Barnes, Karen Casteneda, Brent Kisby, Anthony Pascullo and Josh Willms. Fellow TTUHSC researchers Susan Bergeson, Ph.D., Volker Neugebauer, M.D., Ph.D., P. Hemachandra Reddy, Ph.D., and Michael O'Boyle, Ph.D., played critical roles during the grant development process.