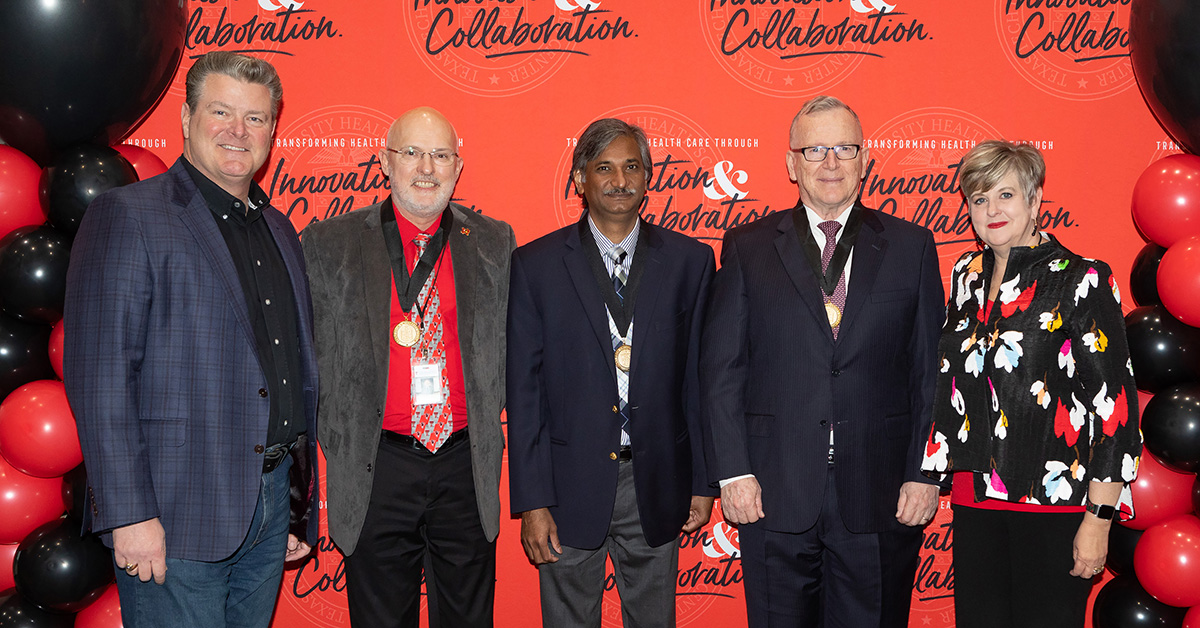 Texas Tech University System (TTU System) Chancellor Tedd L. Mitchell, M.D., and Texas Tech University Health Sciences Center (TTUHSC) President Lori Rice-Spearman, Ph.D., and TTUHSC Provost and Chief Academic Officer Darrin D'Agostino, D. O., presented the 2022 Chancellor's Council Distinguished Teaching and Research Awards March 3.
Recognizing academic excellence, the honors are the most prestigious awards granted to faculty throughout the TTU System. The awards are funded by gifts to the Chancellor's Council, a giving society that supports the chancellor's priorities across the TTU System.
"Faculty members are an integral part of all we do at the Texas Tech University System," Mitchell said. "Through their research, outreach and mentorship, they impact our students, our communities and the world. I am proud of the excellence and leadership our award winners exemplify as they conduct innovative, meaningful research and guide our students and institutions to even greater success."
The Chancellor's Council Distinguished Teaching Awards are designed to recognize faculty members for teaching excellence, as evidenced by their attainment of distinction both within and beyond the institution for outstanding teaching and outstanding contributions related to excellence in teaching. The Chancellor's Council Distinguished Research Awards are designed to recognize outstanding research, scholarship and creative activity of faculty members in the developmental stages of their careers.
"I'm so very proud of our award recipients; their work truly exemplifies the spirit and level of prestige recognized by these awards," said Rice-Spearman. "As a leading health research institute, their value to our great university is significant not only in the innovative and collaborative work they do but also in their leadership, as they embody the values of our great university's culture."
Award recipients received a $5,000 stipend and an engraved medallion. TTUHSC honorees include:
Distinguished Teaching Award Recipients:
Edward R. Yeomans, M.D., a professor and Robert H. Messer, M.D., Endowed Chair of the Department of Obstetrics and Gynecology in the School of Medicine, joined TTUHSC in 2008.
He is a distinguished educator with more than 40 teaching awards for resident and medical student education. Additionally, he received numerous faculty awards, including the University Distinguished Professor in 2016.
Yeomans served in Vietnam as a medic with the United States Army Special Forces in 1970-71 followed by 21 years in the U.S. Air Force. His military awards include the Bronze Star, Meritorious Service Medal, Air Force Commendation Medal and Army Commendation Medal.
Michael Taylor, PA-C, an associate professor and associate program director in the Physician Assistant Studies Program in the School of Health Profession, joined TTUHSC in 2004 and has served in numerous leadership roles as part of the Physician Assistant Studies Program, including faculty member, clinical coordinator and academic coordinator. He has been a certified physician assistant for 40 years and currently is a licensed physician assistant in Texas.
Taylor's specialty is orthopedics. He was named TTUHSC Student Senate Outstanding Teacher of the Year for the Physician Assistant Studies program 10 times.
He was instrumental in advancing the use of technology for learning and testing by converting the curriculum to a learning management system: first WebCT, then Blackboard, and now Sakai. He also converted student testing from Scantrons to an LMS and now ExamSoft, to be more consistent with the national certification examination.
He is a veteran of the U.S. Air Force, having served 20 years in active duty.
Distinguished Research Award Recipient:
Hiranmoy Das, Ph.D., a professor in the Jerry H. Hodge School of Pharmacy Department of Pharmaceutical Sciences, joined TTUHSC in 2016.
For more than a decade, Das's work — funded by multiple NIH grants — has investigated how Kruppel-like Factor 2, a gene that codes protein into a specific human chromosome, influences the development of bone and musculoskeletal diseases.
He is a founding member of three start-up companies commercializing his university-based research — the most recent being RegenKera LLC in 2017. The collaborative work on a successful clinical trial led to a new treatment for dry eye disease. Das holds five patents.
Das is a member of National Academy of Inventors, USA, and a Fellow of the American Heart Association. He also serves as a member of the editorial board for several peer-reviewed journals and on the grant review panels of various state, national and international funding agencies.