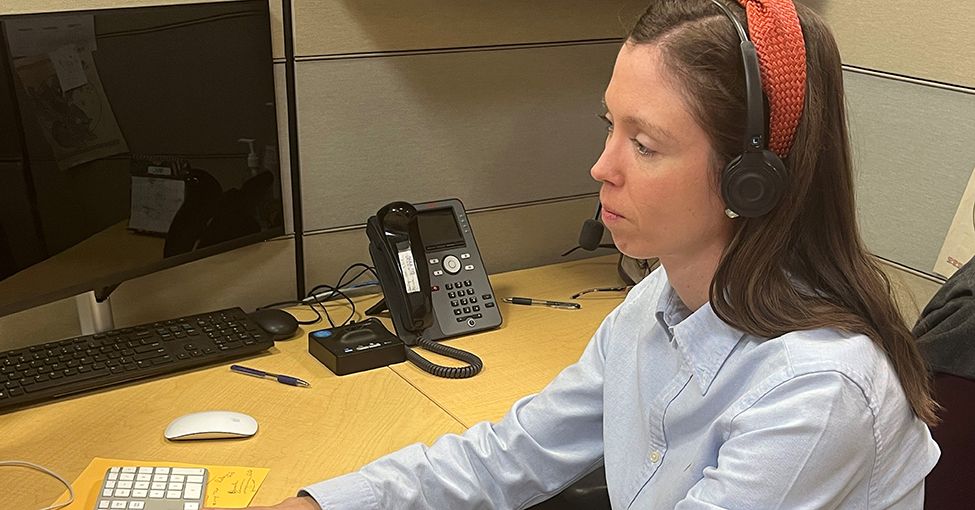 On Feb. 17, the FDA warned consumers not to use certain powdered infant formula products from the Abbott Nutrition facility in Sturgis, Michigan. A voluntary recall of certain products followed. Since that time, the FDA has been working with Abbott and other manufacturers to bring safe products to the U.S. market. But the Abbot shortage, coupled with supply chain issues, has sent parents across the country into a panic. Store shelves are bare. Baby formula products simply are not available.

Texas Tech University Health Sciences Center Assistant Professor of Pediatrics Christine Garner, Ph.D., R.D., says if your baby's normal brand of formula isn't available, you can swap it out for a different one.

"You may have a preference for one formula over another," Garner says. "But they all need to meet those minimum nutrient requirements to be put on the shelves. If you need to switch formulas, I would suggest trying to transition over the course of a few days– starting with a little bit more of the formula that they are used to. If that is just not possible because you don't have enough left, that is also okay; it is safe to switch to a different formula all at once."

She advises that parents should not dilute their formula to make what they have last longer. It decreases the concentration of nutrients and the increased water can actually cause severe problems, particularly in the younger babies whose kidneys are not developed enough to handle it. She also says to make sure to dispose of recalled formula.

"It was recalled for a reason," Garner says. "It's been determined not to be safe or to pose potentially severe risks to the infant."
While some parents have resorted to making their own formula at home using recipes from the internet, Garner begs parents to avoid the experiment.
"These have been found to be dangerous, and they can be harmful to infants," Garner adds. " They do not contain all of the necessary nutrients or in the correct amounts. They can even be harmful and the risk for contamination is high."

She says what you feed your infant also depends on their age. If a child is under six months of age and is not breastfeeding, parents really need to give the baby infant formula. Garner says it is recommended to consult a doctor about switching to another alternative. For infants between 6 and 12 months old, the American Academy of Pediatrics has provided guidance that it may be okay to give them cow's milk or toddler formula for a very short period of time–up to a few days– but parents should switch back to infant formula as soon as possible. Infants have different needs than toddlers, and these temporary alternatives do not meet the nutrient requirements of infants.

Prolonged use of cow's milk or toddler formula could result in nutrient deficiencies in infants.

When it comes to purchasing formula from another country, Garner says a country like Canada has similar safety regulations to the U.S.

"There are some slight differences, but I would say they are not really going to have a drastic effect for a normally-developing healthy infant," she says. "The formula is regulated by Health Canada much like here in the U.S. with the FDA as baby formula needs to have central proteins, vitamins and nutritional requirements. So, formulas in both countries are tightly regulated."
Meanwhile, the shortage of baby formula has reignited a discussion on the importance of breastfeeding. Garner, who is a researcher in the TTUHSC InfantRisk Center (IRC), strongly encourages parents to continue to breastfeed or start breastfeeding once their baby is born. Garner acknowledges, however, that there are obstacles for some people to start and continue breastfeeding.

Research indicates that younger women, particularly under the age of 20, less-educated women, women with low-income and socioeconomic status and women from culturally and linguistically diverse backgrounds are more inclined to not breastfeed their babies. Barriers to breastfeeding success include a lack of knowledge, social norms associated with breastfeeding, poor family and social support, lactation problems, returning to work and accessing supportive childcare. There is also a major lack of understanding of drug interaction and breast milk.

"Years ago, we realized that no one was doing drug research in breastfeeding mothers and that it was ultimately up to us to do this research," Thomas Hale, Ph.D., founder of the IRC, said. "Since 2013, we've published dozens of drug studies on the topic."

The IRC, a worldwide call center located in Amarillo that is used by physicians, nurses, lactation consultants and parents, was established to support breastfeeding individuals as these sorts of questions arise.
"We do our best to help anyone evaluate the risk to the infant of exposure to maternal medications and help keep mom breastfeeding safely," Kaytlin Krutsch, PharmD, a researcher in the IRC says. "We work every day to answer difficult and often unknown problems for our callers, and we're almost always able to find a way to help find safe treatments for these mothers.

The IRC has also created two easy-to-use mobile apps that help pregnant and breastfeeding people and their providers decide if a medication is okay to use. The apps have a database of more than 20,000 drugs. The MommyMeds ($3.99) and the InfantRisk HCP ($12.99) apps are available on Apple and Google platforms and can be accessed at all times. Annual subscriptions directly support IRC research.

"Unfortunately, medical providers are not usually breastfeeding specialists. And they tend to err on the side of caution whenever it comes to the infant," Krutsch says. "And so, in general, a lot of moms are told to stop breastfeeding when it might not be necessary. You might also have moms that choose not to take their medications because they're trying to prevent drug exposure to their baby. They're really well-intentioned; everyone is just trying to do what's best for the baby, but sacrificing their own health isn't the best way to keep the mom and the baby healthy."

Parents, both those who are breastfeeding and those who are formula-feeding, should always have a conversation with a health care provider before making any changes to their current routines.

For more information on the IRC, visit www.infantrisk.com or call (806) 352-2519