Produce grown from the project to be donated to Lubbock Impact's soup kitchen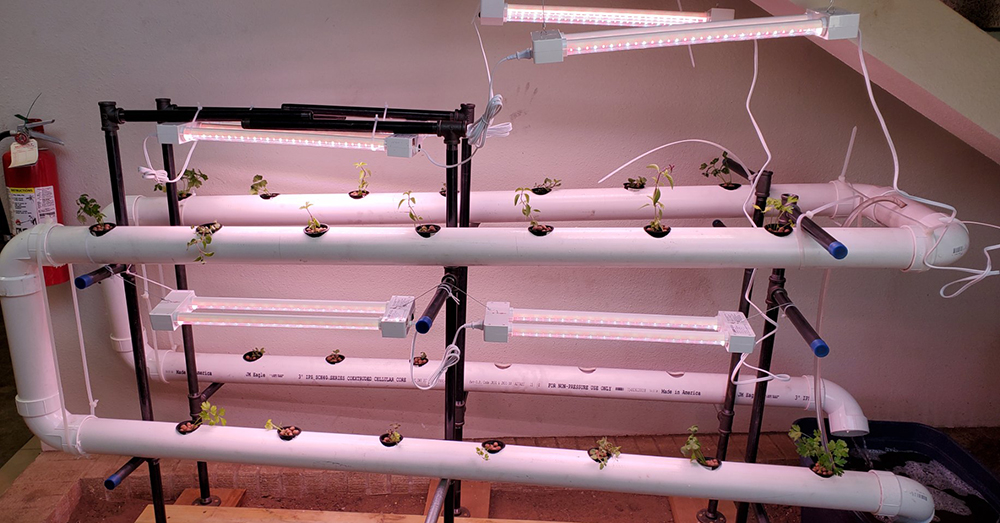 In 2020, Texas Tech University Health Sciences Center (TTUHSC) School of Medicine student Emily Fine had an idea.
"We have a class requiring a community health project, so I proposed this urban farm as an idea for that project," Fine explained. Her idea stemmed from a concept she had learned about in undergraduate school.
"I was involved with urban farms called Big Tex Urban Farms and Restorative Farms," she said.
Urban agriculture is the cultivation and distribution of agricultural products in urban or suburban areas, often using spaces like parking lots or rooftops rather than traditional farming spaces.
Through her involvement with these urban farms, Fine learned about hydroponic systems, a method of growing plants without soil. Instead, hydroponic systems use a nutritious water solution that leads to faster growing plants and more efficient water usage.
When she started at TTUHSC, Fine knew she wanted to continue working with hydroponic systems–and this community health project seemed like the right opportunity to try creating one.
"With Lubbock's strong winds, colder winters and hot summers, I thought it'd be safer to build a system that could function indoors, like a hydroponic system, so I wouldn't have to consider weather as an obstacle to growing plants." Fine said.
Knowing she would need help turning this idea into a reality, Fine approached Texas Tech University (TTU) Greenhouse Manager, Research Associate and Horticulture Lecturer Vikram Baliga, Ph.D. With Baliga being happy to help, Fine just needed supplies, people and financial support.
"Since we would need supplies for the system, I applied for two grants to supply us with the money we'd need for the system parts," said Fine. "Many medical students were willing to help with this project, so with the students, Vik and grant money, we were able to build the system!"
Like many ideas born in 2020, a global pandemic slowed the process down slightly. However, Fine, Baliga and the participating students remained passionate about the project.
"We got derailed by Covid, like everything else," said Baliga, "but recently we finally got it up and running."
With the help of some of Baliga's student assistants, they built the hydroponic system inside the Free Clinic, a clinic run by TTUHSC medical students and physicians located within Lubbock Impact, a non-profit organization. The hydroponic system is placed in an entirely unused space below a stairwell.
"It's cool that these systems can be built almost anywhere, taking advantage of any unused space!" said Fine.
The produce grown from the system will be donated to the soup kitchen inside of Lubbock Impact–completing the cycle of beneficial community giving.
"This way, the produce goes directly to Lubbock community members and patients of the Free Clinic to increase their intake of fresh, healthy produce," said Fine. "Sometimes it's difficult to buy fresh produce–whether the problem is access to these herbs and vegetables, or not buying produce because the shelf-life is too short for their lifestyle. With this garden, we can provide Lubbock community members with nutrients they might otherwise not get from their usual diet."