With interest in health care professions continuing to grow, students of all ages and backgrounds whose interests are focused upon a career in health care and the health-related sciences will have an opportunity to learn more about their specific discipline of interest when the Texas Tech University Health Sciences Center (TTUHSC) hosts its 2022 Future Healthcare Professionals' Experience (FHPE) from 8 a.m. – 3 p.m. April 30 in the TTUHSC Academic Classroom Building at 3601 4th Street.
FHPE is an annual event hosted by TTUHSC's Office of Student Life with support from the TTUHSC President's Office. The event includes representatives from the Graduate School of Biomedical Sciences, Jerry H. Hodge School of Pharmacy, the future Julia Jones Matthews School of Population and Public Health and the Schools of Health Professions, Medicine and Nursing.
Doris Hereford, TTUHSC's director of student diversity and inclusion and assistant director of student life, said the FHPE program aims to engage area high school students, college transfer students and the general community. The cost-free event provides informational sessions and learning activities that highlight the various opportunities available within each of the TTUHSC schools.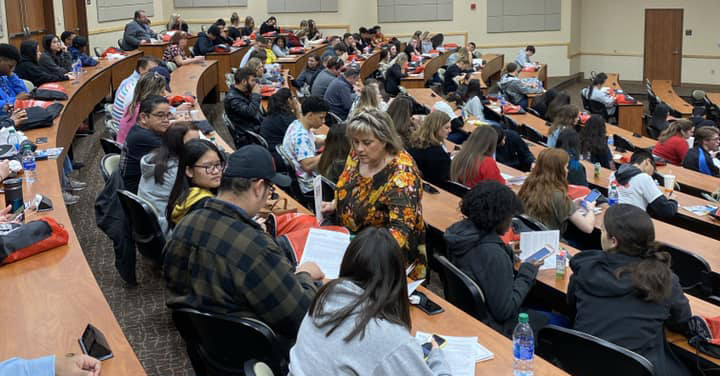 "We provide an avenue for students that are interested in pursuing a health care-related field to receive valuable information on the types of programs TTUHSC offers," Hereford said. "The objective is to show attendees that are interested in the health care field that TTUHSC is an option, and we want to give everyone who is interested the tools necessary to make an informed decision."
Pandemic restrictions forced last year's FHPE to be primarily conducted in a virtual format. For 2022, the event will return to an in-person format with a few modifications, including limiting attendance to the first 150 who registered to ensure classroom capacity is maximized at 50%.
"I think many are eager to get back to in-person events," Hereford added. "We've already received more than the maximum number of 150 reservations and we had to close the Eventbrite link almost two weeks earlier than the scheduled April 15 deadline."
Hereford said she welcomes the return to an in-person format because attendees benefit from being able to visit the campus and meet the faculty, staff and students face-to-face. The return to an in-person format also provides attendees with more options to tour the SimLife simulation laboratory and the Graduate School of Biomedical Sciences research laboratories.
Hereford also is excited for attendees to tour the new Institute of Anatomical Sciences and to learn more about the future Julia Jones Matthews School of Population and Public Health. All tours will be conducted in the afternoon and attendees will be able to sign up for multiple tours.
"It's important that attendees are able to experience our campus in person," Hereford said. "That gives them a better opportunity to build relationships and really get a feel for what it would be like to attend TTUHSC."
For more information, visit the FHPE webpage.