TTUHSC experts address common concerns at recent virtual town hall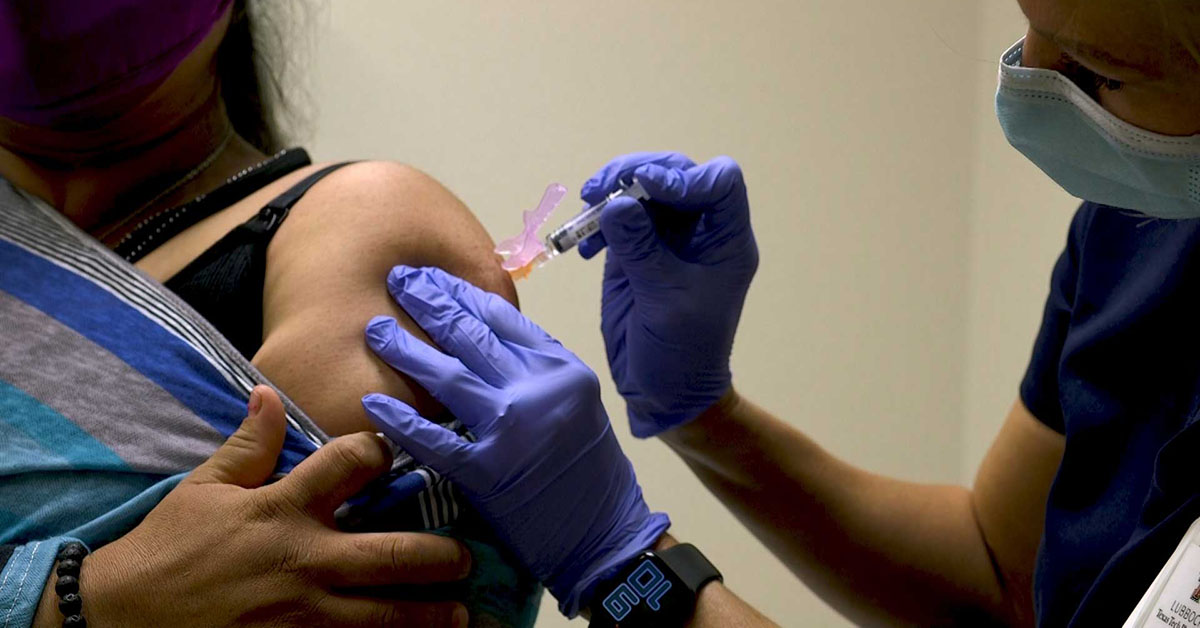 At a virtual town hall event held on Wednesday, August 18, experts at the Texas Tech University Health Sciences Center (TTUHSC) and TTUHSC El Paso met to answer some of the common questions surrounding the vaccines, the Delta variant and how to protect ourselves during this fourth wave of the pandemic.
Seven trusted health care leaders addressed topics surrounding booster shots, the virus variants, vaccine hesitancy and more. Some of the most discussed and asked about topics, however, involved the COVID-19 virus and vaccine for women who are pregnant or breastfeeding. Teresa E. Baker, professor and regional chair of the TTUHSC Department of Obstetrics and Gynecology in Amarillo, and Sireesha Y. Reddy, M.D., chair of the Department of Obstetrics and Gynecology at Texas Tech Physicians of El Paso, both spoke about a number of specific topics, but generally clarified that the health risks of the COVID-19 virus can be very serious for women who are pregnant or breastfeeding, and that studies have shown the vaccine to be safe and effective.
Pregnancy and COVID-19: Health Complications
"There's fairly good data now," said Reddy. "We've had two years going through the pandemic and it's fairly clear that symptomatic pregnant women or recently pregnant patients who do get COVID-19 are at increased risk for more severe illness compared to their non-pregnant counterparts." Reddy explained that this means that the chances of complications are higher for pregnant individuals who are COVID-positive and symptomatic than they are for non-pregnant individuals who are COVID-positive and symptomatic. This includes patients who need mechanical ventilation, ICU admission, more advanced breathing support and even death.
Recommending the Vaccine During Pregnancy
Discussion around vaccination for pregnant individuals has led many to question whether or not it is wise to receive the vaccine during pregnancy. Reddy clarified that studies have shown the vaccine to be safe and effective for women who are pregnant. While the American College of Obstetricians and Gynecologists had initially shown support but refrained from recommending the vaccine, the organization has recently changed its stance.
"I am proud to say that in the last month the American College of OB-GYN has come out and does recommend the COVID-19 vaccine for both pregnant individuals and lactating women," said Reddy.
For new mothers and pregnant women who are vaccinated, Teresa Baker, M.D, TTUHSC professor of Obstetrics and Gynecology and co-director of the InfantRisk Center, spoke to what vaccination means regarding the baby's resistance to the virus.
"Studies have shown that women who receive the vaccine do pass the antibodies to the infants both through the umbilical cord and through the secretory IgA in their milk, so there is some immunity that is passed to the infants for those who choose to be vaccinated," said Baker. "The major organizations are saying that it's safe, and it's certainly safer than getting the COVID virus."
What the Data Shows
While it has taken some time for these organizations to gather enough data to make these kinds of statements and recommendations, Reddy explained that "v-safe" data has brought a deeper understanding of COVID-19 and the adverse outcomes of child birth—both for the mother and the child. V-safe data comes from the health registry for the Centers for Disease Control (CDC) that monitors the safety of COVID-19 vaccines.
"We have quite a bit of data now and it continues to grow," said Reddy. As of July of 2021, the data has taken into account the side effects, maternal complications and neonatal data of about 136,000 women.
"Out of those complications in particular when you compare in the v-safe data to the background rate for gestational diabetes, hypertension, preeclampsia… none of these have really reached above the background rate," said Reddy.
The same applies to neonatal outcomes. "There were some thoughts about preterm labor and congenital anomalies, but none of these have proven true in comparison to the background rate," Reddy said. "They don't even approach the background rate."
For some, a major source of hesitation to get the vaccine revolves around the fear that it might affect fertility. Reddy states that these claims are unsubstantiated.
"For vaccine infertility—really there is fairly good evidence now, through the v-safe data. There's really been no scientific evidence to support that claim," Reddy clarified. "The American College of OB-GYN, has pretty firmly said that the claims linking COVID-19 vaccination to infertility are really quite unfounded."
How the InfantRisk Center Helps
For new and expecting mothers, the InfantRisk Center is a source of valuable information for anyone who is planning a family and might have questions regarding COVID-19 and the vaccine.
"We run the InfantRisk Center here, Dr. Hale and I," said Baker. "We are getting thousands of calls and hits on the website every day asking questions about treatments that are available, what's safe and what's not, and how to make the best decision. We would love for you to contact us."
Baker points out that while the data might not be enough to definitively solidify a decision for new or expecting parents, the InfantRisk Center can provide every piece of information they have to keep individuals fully informed.
"We will tell you the most information we have—and that sometimes is not sufficient for people to feel really confident in their decision making, but we're in a place right now where we just have to do the safest thing for moms and babies and be as honest as we can about what the data does show."
Finally, Baker reminds individuals to exert compassion and understanding for those who show hesitation regarding the vaccine.
"This is a very vulnerable time for women and their children, and they're trying to make the best decision that they can. We [the InfantRisk Center] would love to help you sort through those decisions."