When Dr. Ivan Becerra applied to the family medicine program at the Texas Tech University Health Sciences Center (TTUHSC), he wasn't aware of all of the possibilities that a career as a family physician could offer. "When I interviewed at TTUHSC, I had no idea that rural medicine was even a thing that someone could sub-specialize in," he says. "The rural medicine training was something that drew my interest to the TTUHSC family medicine program."
Today, Becerra is a third-year resident in Fort Stockton, a town of 8,500 in West Texas. He's one of a handful of new doctors training in a rural track that is part of TTUHSC's family medicine programs in the Permian Basin in Odessa. He was particularly interested in the rural residency because of the opportunity to practice a wider range of family medicine than he would as a family doctor in an urban setting.
"With rural medicine, you end up providing care for people in a low infrastructure and low support region," Becerra says. "People in a rural community don't necessarily have either the providers in their area or the resources to transport themselves to see a specialist. So a lot of times in rural medicine we take ownership and responsibility for cases that normally we would refer to other specialists."
As a resident physician, Becerra has enjoyed the breadth of TTUHSC's family medicine programs. "One thing that I enjoy about our program, especially out in the rural sites, is that you do get an extra degree of independence, while still maintaining patient safety. We get to practice on our own a little bit more and then if we have a question, we have backup. And a lot of times, people don't get that opportunity until they're already out of residency," he says.
Dr. Timothy Benton, a tenured faculty member and regional chair of the Department of Family and Community Medicine at TTUHSC's medical campus in the Permian Basin, launched the rural family medicine program in 2014 with the goal of getting more doctors into rural areas, where Texas' severe shortage of health care providers is most acute.
Texas leads the nation in the number of hospital closures, Benton says. Texas also ranks 47 out of 50 states for the number of primary care providers per 100,000 residents. There are over 30 counties in Texas that lack a single primary care physician, according to the Texas Department of Health and Human Services.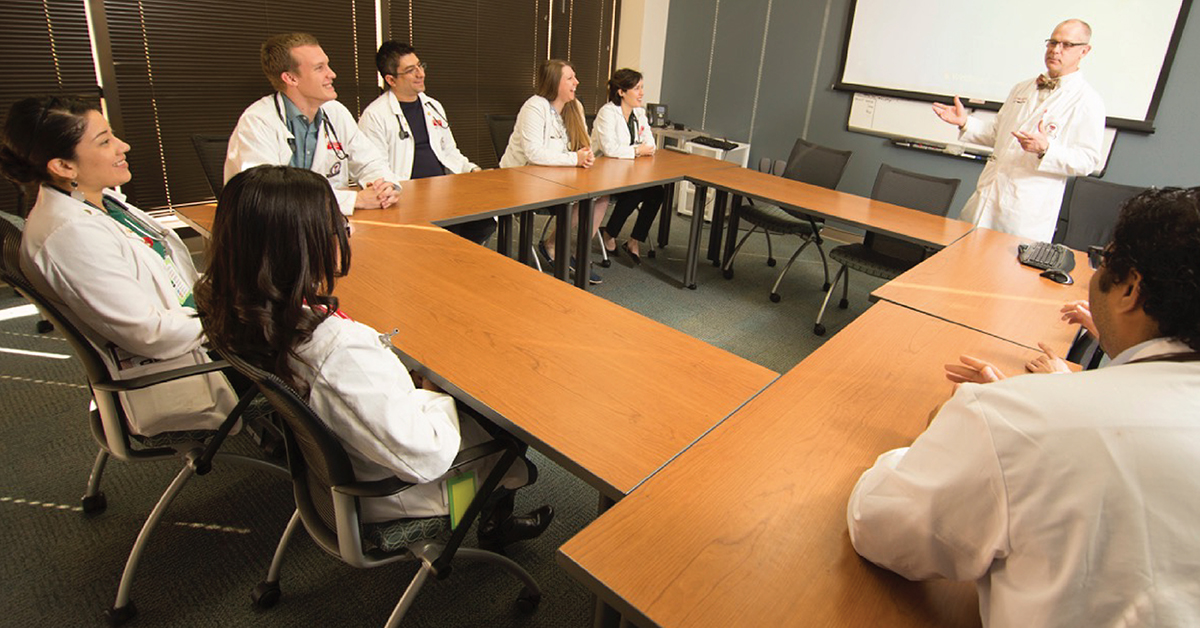 TTUHSC Is Helping to Create A Rural Health Care Pipeline
Because doctors who train in rural areas are more likely to stay in the communities where they complete their residencies, TTUHSC family medicine programs are helping to create a pipeline of rural family doctors from its medical school. Residents in the three-year rural residency track work at one of four rural training sites, which may soon expand to include three more sites. Benton says that the 10 spots in the rural track fill up every year.
TTUHSC's Family Medicine Rural Residency Track in the Permian Basin trains doctors in full-spectrum medical care including general and preventive medicine, operative procedures, surgical obstetrics, and Texas-Mexico "border medicine." Residents spend their first year of residency at the TTUHSC campus in Odessa and the subsequent two years in rural practices, such as Becerra's placement in Fort Stockton.
The program builds on TTUHSC's long tradition of serving rural communities. The Texas Tech University School of Medicine — which grew to become TTUHSC — was founded 50 years ago in 1969 to address the shortage of primary care doctors in West Texas. Now it serves as a hub of primary care and family medicine for a 108-county service area with nearly 3 million residents. TTUHSC is one of only 39 medical schools offering rural training programs. Its family medicine rural residency track is one of just two rural medicine programs in Texas.
Family medicine programs are crucial in helping to address the rural health care shortage in Texas because the family doctor is often the first stop for patients in rural communities. "Family medicine plays the major role in health care delivery in rural areas," Benton says. "The majority of rural medicine and certainly primary care is provided by family doctors."
Family Physicians Play a Crucial Role in Delivering Primary Care
So what is family medicine? Family medicine is, according to the American Academy of Family Physicians (AAFP), "the medical specialty which provides continuing, comprehensive health care for the individual and family." Family doctors are trained in the biological, clinical and behavioral sciences to treat the entire family, from children to the elderly. Family physicians are primary care providers which means they are often a patient's first point of contact with the health care system.
Benton says that the key factor in family medicine, especially in rural areas, is building relationships. "The general spirit of family medicine is continuity of care. You need that ability to build connections and relationships with patients and families," he says.
One of the reasons why Benton wanted to become a family doctor was to be on the front lines of medicine. When a patient comes to him with an issue, he has to figure it out.
"I have to decide, can I handle it, treat it, or do I need a referral? I like the aspect of having to work through the puzzle," he says.
He also enjoys working directly in the community, which can be especially important in delivering rural health care. "Family docs are more suited to be integrated into community-based care, looking at social determinants of health and community engagement," he says. "You can even more broadly be involved in the distribution of health care, beyond your office — and in a prevention as well as treatment mode."
He adds that because of the broad nature of family medicine, family doctors have the opportunity to tailor their practices, both in terms of focus and clinical setting. Family physicians work with all ages and genders and draw on training in a broad spectrum of areas including internal medicine, pediatrics, obstetrics, women's health, and geriatrics.
"One of the things that I liked, and why I went to family medicine, is that I would go in one room and see a nine-month-old and then go into the next room and see a 90-year-old. You're not doing the same thing over and over all day. So you have potential for diversity," Benton says. "You can decide whether you want to take your practice into community outreach and work in nursing homes or be involved with hospice."
Benton says that being a physician in a rural area requires graduates of family medicine programs "to be really good" because they are often the only doctor on site.
"It's not like in the urban center where you have all the consultants right down the hall. Here, there is an opportunity to do more. You can be involved more in some orthopedic cases and some emergency room cases that might otherwise get farmed off to a subspecialist in the urban setting," he says.
He adds that a lot of rural physicians provide obstetric care or staff emergency rooms. "To me, that's an opportunity to do something more in diversity," he says.
Family medicine is also a growing field. "There are tons of opportunities for primary care in Texas. There's a big shortage across the state, but there is incredible opportunity particularly in West Texas," Benton says.
TTUHSC Produces In-Demand Medical School Graduates
Nationwide, there's a growing demand for graduates of family medicine programs. According to the Bureau of Labor Statistics, overall employment of physicians and surgeons is projected to grow 7% between 2018 and 2028, faster than the average for all occupations. Over the same period, jobs for health diagnosing and treating practitioners, which include family doctors, are expected to grow 13%. Family physicians earn an annual median income of $200,000, according to the AAFP 2018 Practice Profile Survey.
According to the Texas Department of State Health Services (DSHS), the shortage of primary care physicians in Texas will grow from 2,002 full-time equivalents in 2017 to 3,375 in 2030, an increase of 67%. The DSHS predicts that demand for family doctors will significantly outpace the supply in the next two decades. In Texas, this translates to a shortage of 1,016 full-time family physicians by 2030.
Benton adds that even though there have been a significant number of hospital closures, there's still a growing demand for rural health care providers due to a growing population. That's also part of the reason why TTUHSC has the largest rural training program in the state of Texas. "There's a huge need at multiple surrounding West Texas rural hospitals. That's exactly what has driven the development from my department in the Permian Basin," he says.
In addition to the rural residency track, TTUHSC offers the Family Medicine Accelerated Track (FMAT), an innovative three-year accelerated family medicine program. Medical students complete a family medicine program in Lubbock, Amarillo or the Permian Basin in three years rather than the traditional four-year track. The accelerated program allows students to complete their family medicine degree one year sooner than students in a standard curriculum, with about half as much debt. TTUHSC School of Medicine also provides scholarship support to FMAT students, in addition to a guaranteed residency at TTUHSC.
TTUHSC also has a strong telemedicine program, which allows rural doctors to work with specialists in other locations via technology. TTUHSC's rural health care clinics can link to larger hospitals through telemedicine. TTUHSC also provides telemedicine training for health care providers from around the country through its Frontiers in Medicine telemedicine certificate program, which offers 18 hours of continuing education credit. According to Benton, residents in the family medicine program are exposed to telemedicine through their clinical rotations.
Residents Provide Critical Rural Health Care in Underserved Areas
For Becerra, his training has proven to be an eye-opener. He says that his rural residency has helped him see first-hand the inequities of the health care system in the United States. "It's one thing to see socioeconomic disparities in an urban environment. Sometimes just a lack of education leads someone to have barriers in accessing medical care," he says. "Whereas in the rural setting, it's everybody. Whether they are in different socioeconomic classes, members of different ethnic or religious communities — everybody's affected by the lack of health care provided in rural settings."
Becerra hopes that family medicine programs like the rural residency track at TTUHSC will encourage more practitioners like him to work in rural settings. "It's unfortunate that a country of our standing, a country of our wealth, has such a deplorable state of health services for a huge proportion of their population. I do intend to work and dedicate my career to underserved areas and I am glad that I've gotten the opportunity to train in some of these areas suffering from less infrastructure and support," he says.
Becerra is excited about the future of TTUHSC's role in training health care professionals to work in rural areas. One example is the possibility of a combined family medicine/psychiatric residency to help address a shortage of mental health care providers in Texas.
"What's super interesting to me about this program in particular and about TTUHSC's graduate medical departments as a whole, are the possibilities that are coming up. I hear plans of how the program's going to expand and try to train more rural practitioners," he says. "I see that as a really exciting time for the program to train professionals to go and work in these underserved areas."
According to Becerra, the TTUHSC expansion in a number of different spheres is what community medicine is all about. "It's not just urban or rural, it's not just women's health or pediatrics. It's the health of the community as a whole and that requires multifaceted approaches," he says. "I'm really looking forward to seeing how we can come up with new and innovative solutions for problems that have been plaguing our communities."
For More Information
To find out more about the Family Medicine Accelerated Track program at the Texas Tech University Health Sciences Center School of Medicine, email us at: somadm@ttuhsc.edu or speak with the School of Medicine Office of Admissions, at (806) 743-2297.