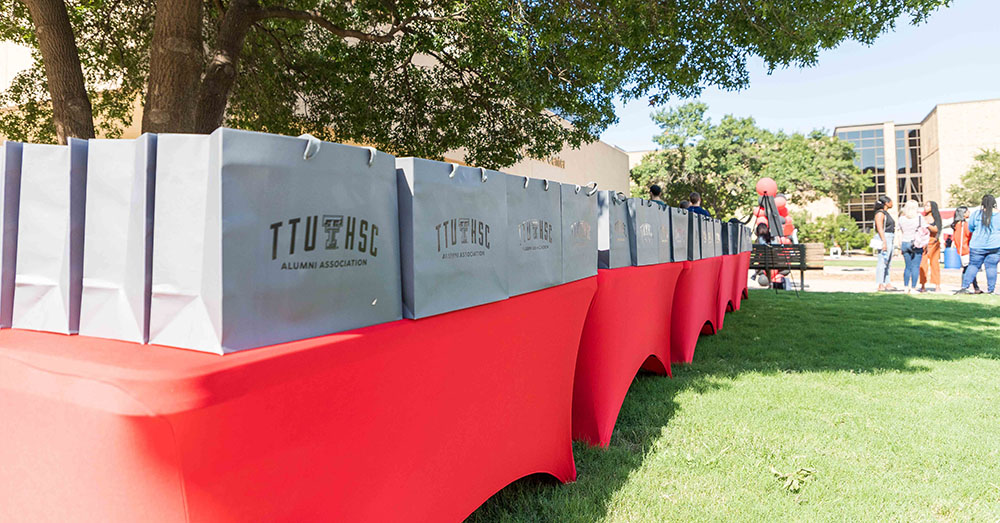 As is tradition for incoming medical students at Texas Tech University Health Sciences Center (TTUHSC), the School of Medicine class of 2025 gathered together on Saturday, July 31, to be presented with their first scrubs and their first stethoscopes from Alumni Relations.
Bringing students and families together with the TTUHSC faculty and administration, the event welcomes the new class of future colleagues by providing each student a set of scrubs and a TTUHSC branded stethoscope. Each year stethoscopes are sponsored by TTUHSC alumni donors and friends—allowing TTUHSC alumni to connect with the incoming class by supplying them with a vital tool and a formative memory of the campus.
Last year, due to COVID-19 restrictions, the traditional event was replaced by a parade where students could celebrate and receive their gifts while remaining distanced in their cars. While students were pleased to be able to celebrate and gather in person this year, the effects of COVID continue to impact families and medical professionals across the globe.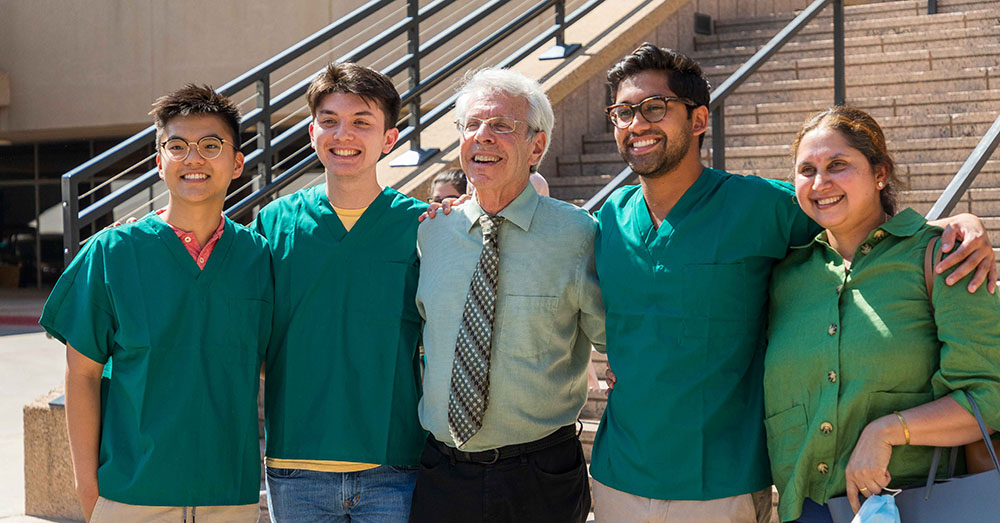 According to Steven L. Berk, M.D., TTUHSC executive vice president and dean of the School of Medicine, more students applied to medical school at TTUHSC this year than ever before. The incoming class consists of 180 students, chosen from 5,000 applicants.
Coming from 49 different schools, the new class of students has an average GPA of 3.8. Berk clarified, however, that these individuals were chosen more for their character and commitment.
"It's about resiliency, not just being able to get good grades, but being able to handle all the challenges that may come before them as a physician. So I think even more than ever, we looked at those traits of character and resiliency and commitment than we ever did before," said Berk.
Within this new class, 169 of these students are from Texas and 90 are from the West Texas region. Newcomers include 15 new additions to the Family Medicine Accelerated Track (FMAT) program, 14 joining the M.D./MBA program, 10 obtaining a joint medical and public health M.D./MPH degree, and one new student in the M.D./J.D. program.
The provided scrubs are green in color, representing the green velvet hood that these students will earn at the end of their journey when they earn the title of Doctor of Medicine. A tradition that started in 2003, this event gave students an opportunity to come together and celebrate the hard work that has brought them to this point in their careers.