Learn the best methods for washing and maintaining cloth masks for maximum effectiveness and protection.
Hand-wash cloth masks and face coverings and let them air dry so they don't lose their shape and fit, especially around the nose and mouth.
In our recent blog covering masks (pun intended!), we discussed how different types of masks and face coverings are most effective in stopping the spread of COVID-19.
The most important takeaway is that, if you have to go in public, it's crucial to wear a mask or covering over your mouth and nose, and continue to practice social distancing and frequent handwashing.
UT Southwestern Medical Center wrote a thorough article on mask effectiveness, stating:
A recent study in the New England Journal of Medicine and an accompanying video illustrate just how effective any form of face covering can be at catching droplets that are released when talking, which is the primary form of COVID-19 transmission. Masks are also an indirect reminder not to touch your face, which is another way they can protect the wearer.
Ramachandra Chemitiganti, M.D., spoke with us about the importance of wearing face coverings and how to properly maintain and clean reusable and homemade masks. Chemitiganti is an associate professor and regional chair for the TTUHSC Department of Internal Medicine in the Permian Basin.
"The single most important reason for wearing a mask to protect others," Chemitiganti says. He stresses that 80-90 percent of the country should be wearing masks. By increasing mask wearing at the community level, the virus spread is decreased.
"We can prevent up to 33,000 deaths if 95 percent of the population will wear masks," Chemitiganti states.
Chemitiganti says that as long as you can get an adequate fit over your mouth and nose, a cloth face covering will work. A cloth face covering, such as a bandana, will not necessarily protect you from being infected but will protect others from your aerosols. Any type of face covering is better than none, he stresses.
How to Wash Your Cloth Mask
Wash your cloth masks after each use and in the warmest water the fabric can tolerate, Chemitiganti says.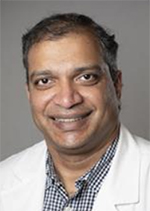 Ramachandra Chemitiganti, M.D.
Chemitiganti recommends hand-washing your cloth masks and face coverings and letting them air dry so they don't lose their shape and fit, especially around the nose and mouth. Inspect your cloth masks before each use to make sure the elastic has maintained its integrity so it can provide the fit necessary for the most protection. Of course, if a cloth mask has any rips, holes or tears, it's time to throw it away.
Keep in mind that surgical masks are disposable and are designed to be thrown away after one day's use.
In many parts of Texas and across the nation, we're seeing surges of COVID-19 cases. We're also hearing much debate surrounding the need to wear masks. But Chemitiganti is strong in his stance:
"Wearing masks is our duty to our community and our family," Chemitiganti says. "Data shows that wearing a mask effectively seems to do better than shutdowns."
As you continue to adjust to the new normal, find the mask that works for you. Find a way to be the most comfortable in an uncomfortable situation. That's how we move forward and save lives.