Adhering to social distancing and learning new routines has proven a daunting process for many individuals. Everything from creating an at-home office space to forming weekend plans can seem strange and unfamiliar.
One of the primary issues currently taking new shape is maintaining good health. Like many areas across the nation, West Texas aims to create a united front, dedicated to staying healthy and abiding by CDC-issued regulations in order to keep one another safe and alleviate some of the overwhelming work that presently faces the health care workforce.
In tandem, the health care workforce wants to ease some of the pressure currently facing concerned citizens during the COVID-19 pandemic. Not only are these health care professionals working tirelessly to "flatten the curve" and slow the spread of the coronavirus, but they are also creating new, virtual methods of providing medical assistance—so that they can treat patients while maximizing isolation and minimizing risk.
With a range of new virtual options, Texas Tech Physicians is providing alternatives to waiting rooms and urgent care visits. In an environment where at-home access is crucial, understanding these alternatives could mean the difference between a video chat and hours of increased risk of exposure to COVID-19.
On Demand Guidance and Screenings
Texas Tech Physicians' Nurse on Demand is a service that provides medical guidance from registered nurses in West Texas. The telephone triage process allows nurses and providers to offer over-the-phone care that uses Schmitt-Thompson protocols, which are reviewed by physicians annually and cover 99 percent of all symptoms.
They are open 24 hours a day, including weekends. Additionally, this service offers individuals initial screenings for COVID-19, home-care instruction, referrals to urgent care facilities and more.
App-Powered Urgent Care
MyTeamCareNOW is a system that connects patients with their doctors—and now offers on-demand support designed for minor illnesses and emergencies. With this urgent care video service, patients can see a provider of their choice, including Texas Tech Physicians providers.
Covering allergies, cold and flu, rashes and other medical issues, this form of video communication is available 24 hours a day, seven days a week, and charges a flat fee of 49 dollars per virtual visit.
Virtual Appointments for Texas Tech Physicians' Patients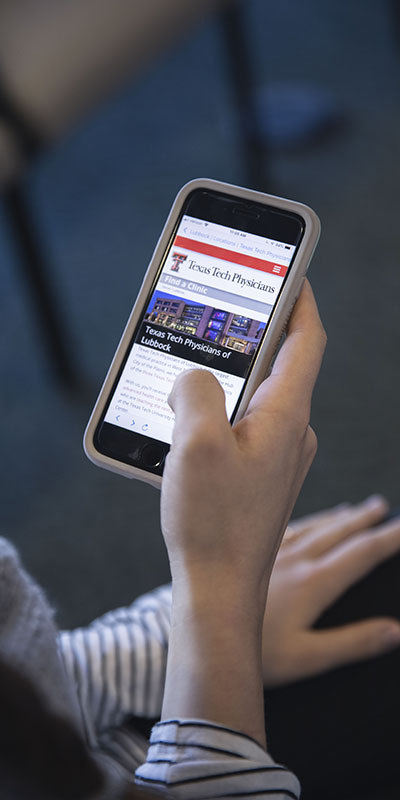 For optimal safety and social distancing, Texas Tech Physicians is transitioning to virtual appointments that allow patients to keep their wellness in check without leaving the house.
Unlike the MyTeamCareNOW Virtual Urgent Care, TTP Virtual is designed to empower patients to schedule and attend an appointment like it was a regular visit—but without the risk of exposure to COVID-19.

Created for both new and current patients, TTP Virtual provides face-to-face visits with a Texas Tech Physicians provider over video and web conferencing such as Zoom and Facetime, as well as by phone.

Availability of appointments varies depending on the clinic. The TTP Virtual website offers more information regarding each department, and individuals may call their clinic for more details.
Test Results, Refills and Medical History
For medical needs that do not require face-to-face communication with a physician, Texas Tech Physicians has an established patient portal. MyTeamCare Patient Portal is a secure environment for your medical information, and offers access to all of Texas Tech Physicians' patients.
Along with viewing test results and medical history, this web portal offers patients the option to send their physicians messages and request refills for their medications.
Necessary Adjustments
Life in West Texas carries on, even in times of social distancing. While health care providers across the nation are proving their dedication on the front lines of this pandemic, the subject of maintaining the health and safety of the region is more prevalent than ever.
Staying healthy means more than just keeping a six-foot distance from your neighbor. In the wake of a crisis, people don't stop having allergies, taking prescription medications or having questions about their childrens' health. While it can be difficult to break from the tradition of visiting a doctor's office, trying these new virtual options can bring the region closer to overall health—which, in turn, might quicken the return of familiar practices.