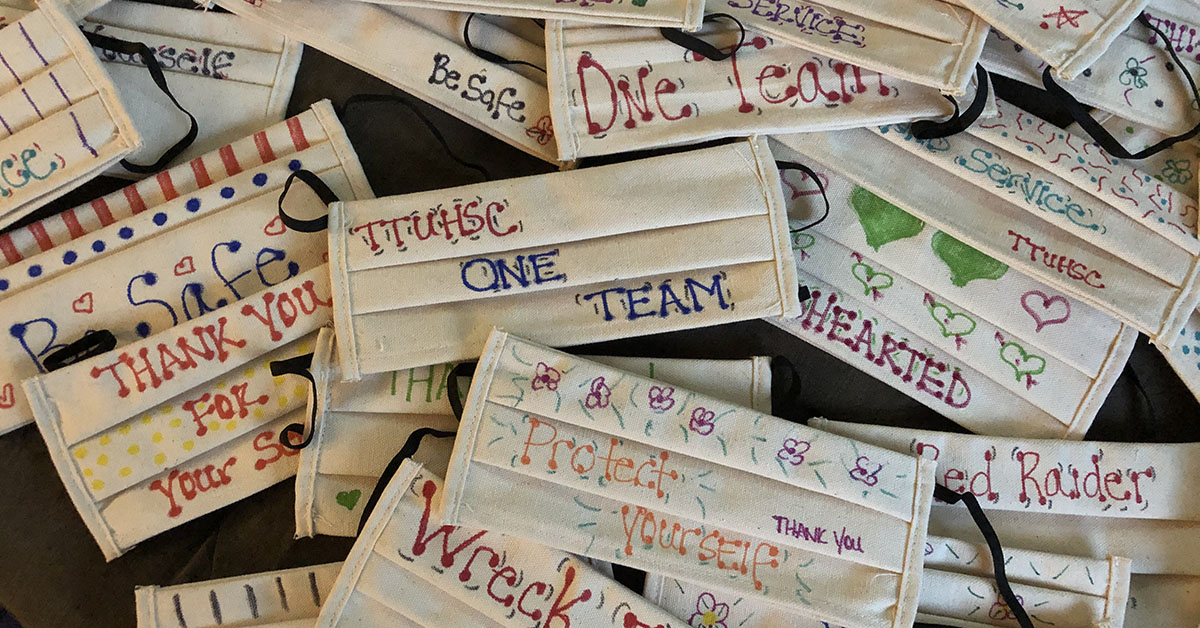 Due to COVID-19, it's quiet on the campuses of Texas Tech University Health Sciences Center (TTUHSC)—but students are still working hard to do their part in this critical time.
As the pandemic started to sweep the country and deplete resources in every state, Sameer Islam, M.D., a gastroenterologist and member of the Lubbock County Medical Society, knew that Lubbock's hospitals and physicians needed help.
The Lubbock County Medical Society brings regional doctors together to advocate for the rights of physicians and their patients. In the wake of COVID-19, the group considered ways to conserve personal protective equipment (PPE) for West Texas health care professionals.
"We were having a hard time finding supplies from our traditional ways of getting supplies," says Islam, "So we had the discussion of having a drive from the community of Lubbock to see if they could give us the supplies that we needed to take care of our patients."
Some students had already texted Islam their offers of help since the campus shut down mid-March, so he knew they would be willing to get involved. Largely crediting TTUHSC students for the project's success, Islam praises second-year medical student Cameron Ludwig in particular for spearheading and organizing the whole donation process.
"I was very disappointed when I found out that medical students wouldn't be allowed to be in the hospital throughout the crisis," says Ludwig. "I knew that I wanted to help out in some way but I wasn't exactly sure at the time what I would do."
At around 10 a.m. on Friday, March 20, Islam called Ludwig with the idea to approach different businesses in the Lubbock community who might have supplies.
That was how the day started, Islam recalls: one phone call, and one post to social media.
"I was expecting to get maybe 50 to 70 items total," says Islam. "I was just hoping for that."
Ludwig took the idea and ran with it. "Dr. Islam originally asked me to reach out to dental clinics and veterinary clinics, but I knew that there were more than enough of my friends in medical school that wanted to help out, so I decided to go bigger," Ludwig says. "We expanded our list to every place in town that could possibly have as little as one box of gloves."
Ludwig was inspired by the level of help that his fellow students were willing to provide.
"Almost everyone that I asked was willing to help," Ludwig says. "So many went above and beyond—creating huge spreadsheets of businesses in town, coordinating with their friends for additional help, posting on Facebook and much more."
By 5 p.m. that same day, the community had donated items in the thousands. From cold-calls alone, Ludwig and his fellow students gathered 40,000 gloves, 5,000 gowns and hundreds of caps and masks. They dropped off the materials to the Lubbock County Medical Society's office by the end of the day.
Reaching out to the community proved pleasant and helpful—an experience neither Islam nor Ludwig expected.
"I expected to be laughed at and hung up on more often than not," says Ludwig. Instead, he found that the desire to help the community extended beyond the student body.
"Every single person at least checked in the storage closet to see if there was anything they could give. We even had several people ask what else they could do," Ludwig says. "Restaurants offered to deliver meals to the hospital and others offered to join in the ongoing effort to make more homemade equipment."
"We were worried that it might be weird having random medical students call these companies and place cold calls, asking for supplies," Islam agrees. "But the community responded beyond our expectations."
While COVID-19 has created an isolating environment, the uniting of doctors, students and community members shows resilience and a drive to care for one another in West Texas.
Though Islam and Ludwig's accomplishment is a triumph for the region, that does not mean the shortage is over. For those who wish to help our local hospitals and health care professionals, visit TTUHSC's How You Can Help page.

Individuals interested in contributing donations to Ludwig's ongoing project can reach him via email at cameron.ludwig@ttuhsc.edu.