Medical Students Provide Free Health Care to Underserved and Uninsured for10 Years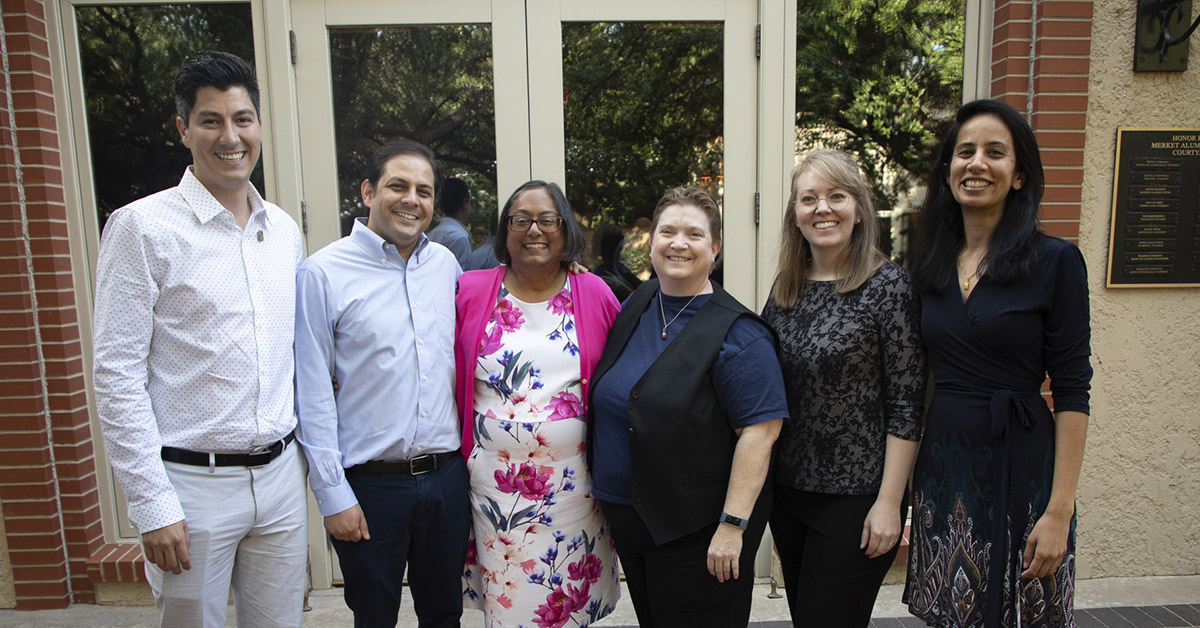 The first student leadership volunteer team.
Drac Smith found it really tough to find any kind of health care. He did not have the money.
"I was in desperate need of some medical care and no way to get it. I had no money or insurance," Smith said. "I heard about The Free Clinic and they helped me. If you think about it, the people that need health care the most, can least afford it."
The Free Clinic is a student-run clinic by the Texas Tech University Health Sciences Center (TTUHSC) School of Medicine that has served underprivileged members of the Lubbock community. Estimates show more than 18 percent of the Lubbock population is uninsured and that 22.5 percent are below the national poverty line. Every Wednesday of the year, The Free Clinic opens its doors and provides free health services. This year the clinic celebrates 10 years.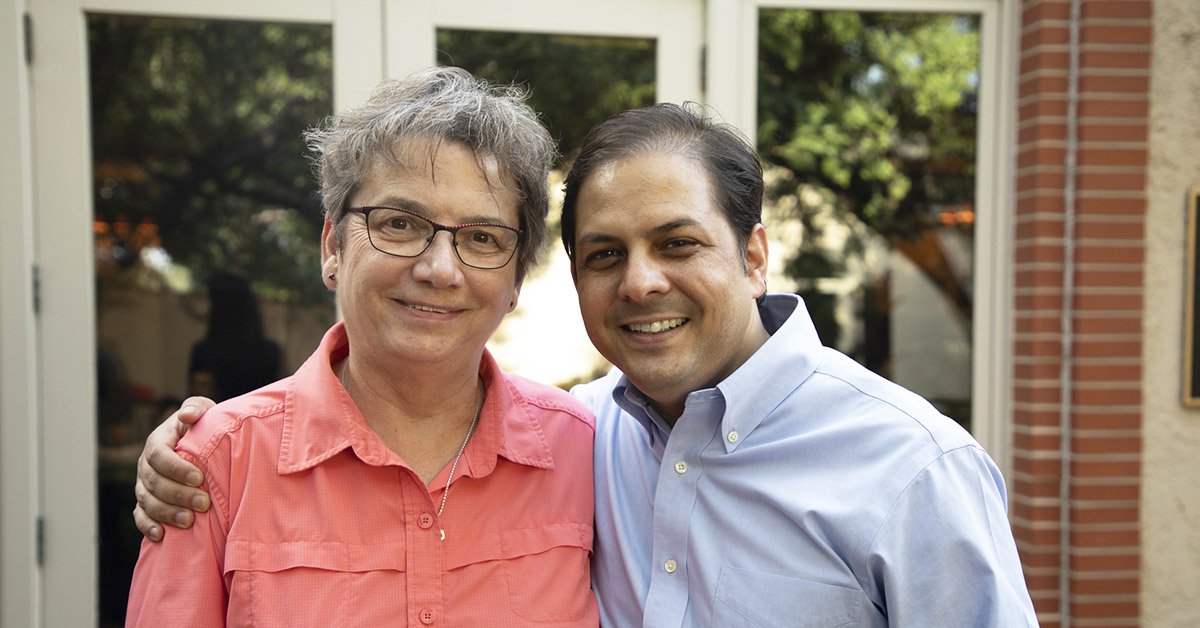 Dr. Patti Patterson & Dr. Brian Mahmood
Dr. Brian Mahmood, now a pediatric pulmonologist in El Paso, was an undergraduate 12 years ago when he along with TTUHSC physician Dr. Patti Patterson, and medical students Sudha Bhadriraju and Peter Wu, saw a need for health care access for the uninsured and homeless of Lubbock.
"While volunteering with organizations that helped the homeless community, Dr. Patterson and I found there were not any real services available that provided a holistic full-service health care to this community," Mahmood said. "We begin to look into a free clinic and from the beginning wanted the medical students to get involved. This was an opportunity for students to get experience and most importantly remind them why they're in school to become a doctor to begin with."
In 2009, Patterson worked with and also put Mahmood, then a first-year medical student, Bhadriraju and Wu in contact with School of Medicine Dean Dr. Steven Berk, and Bryce McGregor, executive associate dean for Administration and School of Medicine Chief of Staff, to brainstorm and work out all the pieces of the puzzle like legal issues, funding and a possible location.
"When it came time to look at the location, we decided the best option was to get a community partner who had a footprint with the homeless and underserved," Mahmood said. "We met with dozens of organizations, but then met Dan Reynolds, a pastor who had started Lubbock Impact, a nonprofit organization that provided outreach for the underserved community. We came together and it was a perfect fit."
Many indivduals from the Lubbock Impact team who have been integral to The Free Clinic's success, including Reynolds.
Lubbock Impact was housed in an old church and Reynolds offered the church choir space to the School of Medicine for the new clinic. Choir dressing rooms with old shag carpets and a piano became the new clinical space for three exam rooms. Also, donations from community physicians and organizations for medical supplies and the gracious funding from the School of Medicine made the clinic possible.
TTUHSC physician Dr. Kelly Bennett became the first director of the clinic and a new School of Medicine student team that included Mahmood, and then second-year medical students Carlos Ortiz, Natalie Frieh and Revathi Ravi, all worked endless hours to help open the doors of the first clinic.
"No one knew what to expect the first day the clinic opened," said Ortiz, who is now an emergency room physician in El Paso. "Would people show up? Would people trust that they would receive good medical care for free? We had 15 patients the first night. And now 10 years later the clinic now has taken over a big part of the building. There's so much more integration of all professions with pharmacy students, nursing students and other health services. It has definitely grown way more than I would have ever thought. We always imagined it would continue but never imagined the impact it has had on so many."
Since its opening, the clinic has facilitated more than 13,000 patient visits with more than 1,500 medical students and 450 faculty volunteering.
Since its opening, the clinic has facilitated more than 13,000 patient visits with more than 1,500 medical students and 450 faculty volunteering. The clinic now has 14 exam rooms and sees up to 30 people each Wednesday night. Dr. Michael Song, a pharmacist who started medical school in 2011, worked with Dr. Bennett to create a Class D Pharmacy that opened in 2012.
The Free Clinic is not only a center for health care for the community but also a place of growth and learning. Dr. Berk said The Free Clinic is one of the School of Medicine's best examples of the students' commitment to their community.
"It is unique in demonstrating how faculty and medical students can work together in caring for patients who need a place in the health care system. The clinic helped us better understand the health care needs of the homeless and others who do not have a primary care physician. And from an educational standpoint, The Free Clinic has been an excellent example of inter-professional education, a place where medical students, pharmacy students, social workers and nurses can learn about patients and provide care together."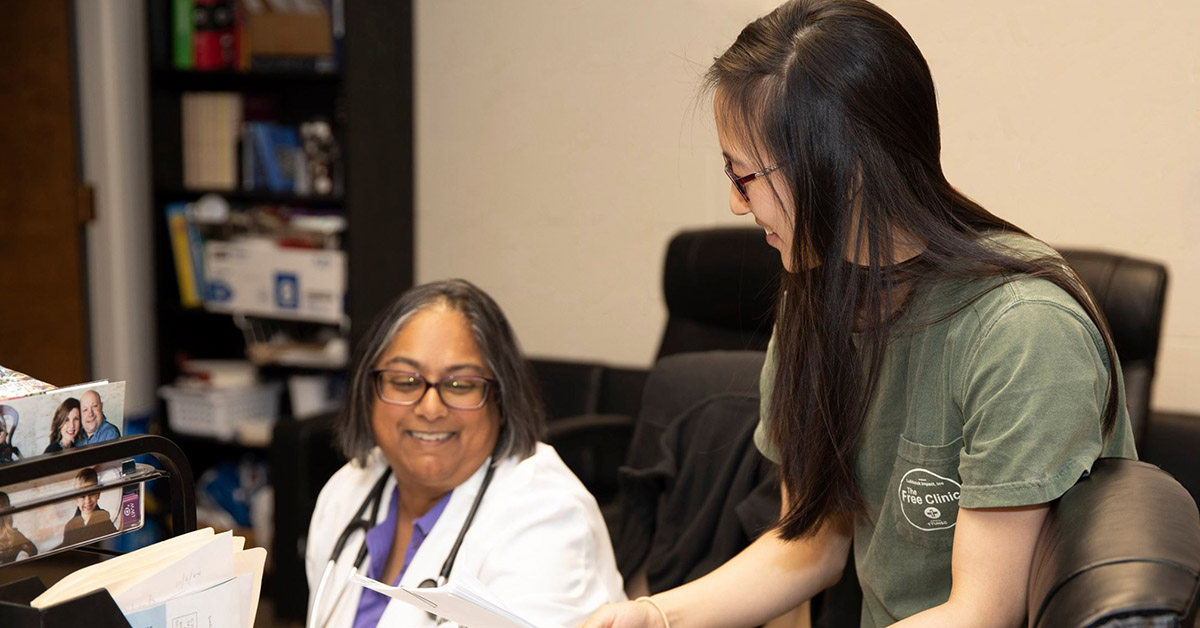 TTUHSC faculty and medical students work together to care for patients who need health care.
Dr. Fiona Prabhu, The Free Clinic medical director and a TTUHSC physician, stressed the clinic provides compassionate patient-centered care that could not have succeeded without all the support of the faculty, students and volunteers.
"We supervise our medical students so they are able to deliver high quality care," Prabhu said. "I always appreciate the energy and enthusiasm the students bring with them to The Free Clinic. They re-energize me personally and we try to help guard against the cynicism about people that starts to creep into their patient care experience as they go through their training."
Mahmood agreed and said The Free Clinic was a positive force in his medical school education.
"It was the one thing we held on to when times were darkest in medical school, with all the exams and pressures. Clinic night was one night of the week that we looked forward to. Because that's when we got to see, 'Okay, I'm going to be a doctor and be able to do this and see these patients and to help.'"
The experience at The Free Clinic continues to impact Mahmood today as a physician. He remains mindful of what his patients may be experiencing or what kind of access they may or may not have. He said he wants to help as many people regardless whether they have insurance or not.
The Free Clinic Student Leadership team for 2019-2020, including Dr. Prabhu & Dr. Bennett.
The Free Clinic will open its doors every Wednesday now with a new leadership team that includes second-year medical students Ana Garcia, Sydney Loy, Annie Snitman, Nathan Chow, Rebecca Kernen and Josh Brock.
Mahmood said the strong support for the leadership teams and the clinic from Dr. Berk, Mr. McGregor, Dr. Patterson, Dr. Bennett and Dr. Prabhu has helped sustain and grow the clinic every year.
"Every year, it's getting bigger, better," Mahmood said. "The teams keep pushing to do more and more and come up ways to improve the clinic and access to health care. And Dr. Bennett and Dr. Prabhu are the heart and soul of it all. They are very selfless and have given so much."
Ten years ago, and today, the constant at the center of it all are the patients that are served with health care and compassion.
"The people at the clinic are awesome," said Smith. "You know, they're coming here donating their time and not getting paid for this and not getting credit for this. They're doing it just to help other people. And that makes a big difference."