The flu shot can decrease the severity of symptoms should a vaccinated person still contract the virus.
With leaves making the change to their autumn colors and pumpkin patches reaching their peak, fall is announcing its annual return. Along with the picturesque foliage and the hand-carved jack-o'-lanterns comes another annual rite of the season: the influenza vaccine, or flu shot.
In addition to decreasing the amount of influenza virus in circulation, the flu shot can decrease the severity of symptoms should a vaccinated person still contract the virus. Because of the vaccine, the immune system is stronger, which means one is less likely to suffer complications like pneumonia or a heart attack, especially in milder cases.
In the U.S., there are two general types of vaccine available for the 2019-2020 flu season. The first, known as a standard flu vaccine, is a quadrivalent, which means it will cover four strains medical forecasters believe will be most active during 2019-2020. The second, known as a high-dose flu shot, is a trivalent vaccine that covers three strains. It is meant for patients aged 65 years and older and contains four times the amount of antigen, which is the component of the vaccine that helps the body build up a resistance to the flu.
So why is a high-dose shot needed to protect seniors?
Studies from past years conducted by the Centers for Disease Control and Prevention (CDC) show approximately 70% to 85% of flu-related deaths in the U.S. have occurred in people 65 years and older. The studies also indicate that 50% to 70% of flu-related hospitalizations include people in this age group.
In addition, data recently presented by the CDC looked at more than 43,000 cases in which older adults had been hospitalized over the last five years due to the flu. The data showed that vaccination reduced by one-third the risk of severe outcomes like pneumonia, mechanical ventilation, intensive care unit admission and death.
However, older adults with weaker immune systems also may have a lower protective immune response after flu vaccination, which can result in lower vaccine effectiveness than that experienced by younger, healthier people. The newer flu vaccines made specifically for people 65 years of age can improve the immune response and protection provided by flu vaccination in seniors.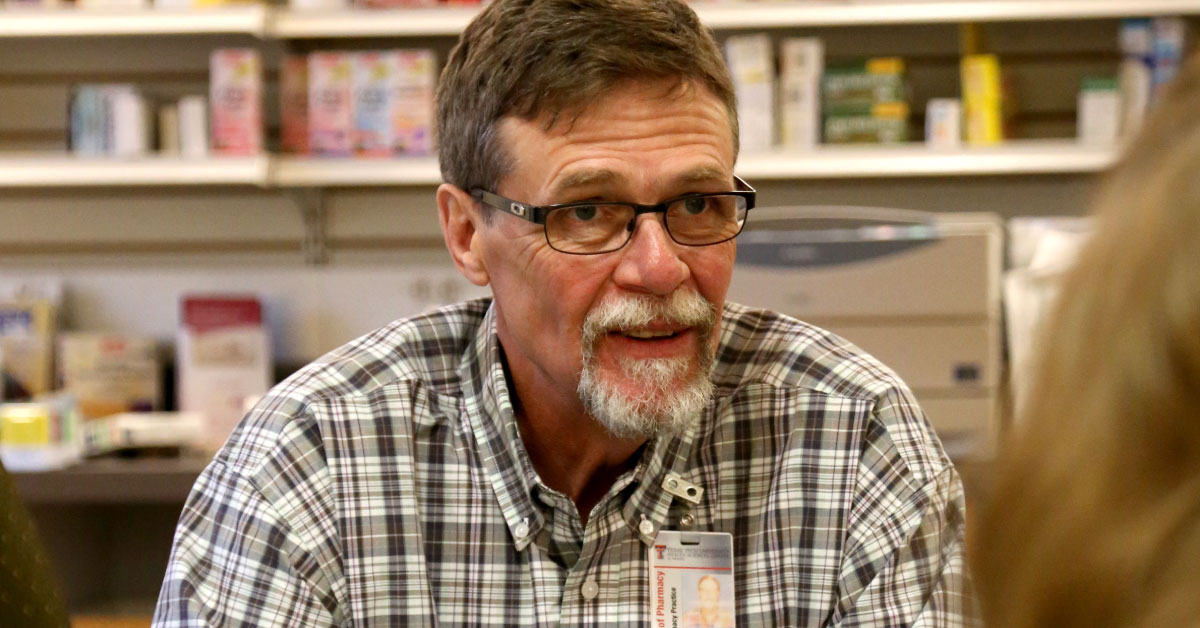 David Simmons, R.Ph.
"What they're trying to do is elicit an immuno-response in an elderly population that doesn't produce a high immuno-response because, for whatever reason, our immunity is not as good as it was when we were younger," said David Simmons, R.Ph., an instructor for the Texas Tech University Health Sciences Center (TTUHSC) Jerry H. Hodge School of Pharmacy. "Basically the vaccine is fooling your immune system into producing antibodies toward that virus that you may come into contact with later."
Despite all the studies and data, Simmons, who also manages TTUHSC's Amarillo Pharmaceutical Care Center, said there are still people who believe getting a flu shot can give them the flu, something that isn't possible because the vaccine doesn't contain a live virus. A person may have a reaction to the shot itself, but if they do actually get the flu a week or two after getting their shot, it's almost certainly because they were exposed to the virus before receiving the flu shot.
"People sometimes don't know the difference between what the true flu is and what they perceive the flu to be," Simmons said. "If they were to truly have the flu to where it puts them in bed for four to five days with real bad aches, a high fever and other symptoms, they'd know the difference between truly being a flu patient and just feeling bad because of what they perceive the shot did to them. Other symptoms like a cough, runny nose and congestion may happen, but they may not be related to the flu virus itself. We call a cold or a stomach virus the flu; we do the same for upper respiratory and lower respiratory infections, and that's just not the case."
As further evidence of the impact flu vaccines have had on society, Simmons points to the 1918 flu pandemic that saw more than 500 million people, or approximately one-third of the world's population contract the virus. At least 50 million deaths worldwide were attributed to the outbreak, including an estimated 675,000 in the U.S. He said it's an experience that many among the elderly population may not recall precisely, but they likely can remember hearing about family members and friends lost to the pandemic.
"They're the ones that have a fresh memory and can say, 'Well, we lost Aunt Betsy or cousin Joe,' and that's really an important reason why many seniors want to get the flu shot," Simmons said. "Younger people don't realize how bad the flu is, or how many people that it can kill in a year's time.
The CDC estimates that up to 49 million people in the U.S. have contracted the flu each year since 2010. Of those, up to 960,000 have been hospitalized annually due to the flu or its complications and as many as 79,000 of those patients have died each year.
"If you can cut that down by any percentage whatsoever, it's got to be beneficial to people," Simmons said. "We lose young children and elderly people every year, and a significant number of those people could be saved just by getting the flu shot. It's just like shingles shots, which can be up to 95% effective depending upon your age. These vaccines give us very good insurance and improve our odds against getting these illnesses. I'd take those odds in Las Vegas any day."