The department of Patient Services hosted a week of recognition for their employees and senior volunteers. Eleven Patient Services staff members and five senior volunteers were honored for their daily efforts to make the patients of Texas Tech Physicians feel comfortable and cared for.
The department has recently implemented complimentary valet parking for patients as well as shuttle services. Through bitter cold winter months and the sweltering summer heat, the employees of Patient Services continue to provide these amenities for patients, and do so happily. This is one of the main reasons noted by Dennis Lamb, director of Patient Services, that his staff was deserving of recognition and praise.
Patient Services employees are also responsible for taking patients to clinics, assisting with directions, and ensuring the overall well-being of our patients and visitors while they are seeking care in our clinics.


Recognized individuals included:
Archie Brown
Nina Vega
Jeremy Johnson
Kris Gaona
Josie Landeros
Bonifacio Vasquez
Chris Tecmire
Mike Matulich
B.J. Casarez
Jacob Vasquez
Lantri Kelly
Senior Volunteers:
Paul Mohr
Delores Garcia
Kandy Manley
Archie Brown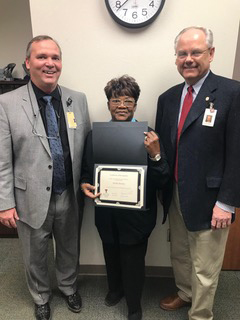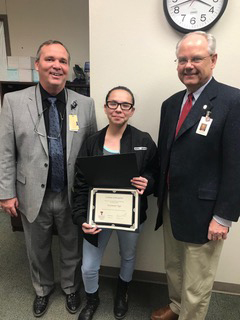 .