Morales as a student with Dr. Bernard Harris, TTUHSC SOM alumnus, physician & astronaut.
As a 23-year-old college graduate in 1998, Dr. Felix Morales, sat next to astronaut, physician and Texas Tech University Health Sciences Center (TTUHSC) School of Medicine alumnus Dr. Bernard Harris at an event to kick off a new premedical society. Morales was asked by Dr. Leo Vela from the Office of Diversity to help start this organization in order for the undergraduate campus to be more inclusive of all people who may want to go into the medical field.

"When I got the organization started, we needed a name," Morales said. "It was around the time when Dr. Harris was still an astronaut, and I did a lot of research on him. After we got the group off the ground, the name was official, the Bernard Harris Jr. Premedical Society. At this gathering to introduce the new group, Dr. Harris sat next to me and we took a photo. I have this goofy picture of me shaking his hand."

Morales, who is originally from Fort. Stockton, fell in love with Lubbock during his undergraduate days and made the decision to pursue his medical degree at the TTUHSC School of Medicine. He is no stranger to hard work. As a child, he helped his family by working in the fields picking onions. His parents Socorro and Juanita Morales, both originally from Mexico, instilled a strong work ethic in their three sons.

"I grew up in a very strict Mexican household. And we knew my dad cared and loved us, but at the same time, he doesn't necessarily acknowledge it or say too much. He said, 'Well, I was hoping you would just graduate with a degree and start working.' I explained being a physician was something that was truly in my heart. One of my favorite memories is the White Coat Ceremony. I got accepted into medical school, and as I walked off the stage, just seeing the sense of pride and smile on my dad's face was a memory I can never replace."
Morales with his family as new graduate of TTUHSC School of Medicine class of 2003.
Morales chose TTUHSC because of the opportunity to work with border health and completed his third- and fourth-years in El Paso. He graduated in 2003 with his medical degree and chose to specialize in pediatrics, but after working two years of his residency at the University of Texas Medical Branch from 2003-2005, he realized he had a passion for family medicine. He worked with the TTUHSC School of Medicine to transition back to the Department of Family and Community Medicine to complete his residency.

He first headed to Fort Stockton to work as a family medicine physician. After a year and a half, he moved to the rural town of Friona, to continue his work in family medicine for three and half years.Then came another opportunity from Dr. Ron Cook, chair of the Department of Family and Community Medicine, to come back to Lubbock.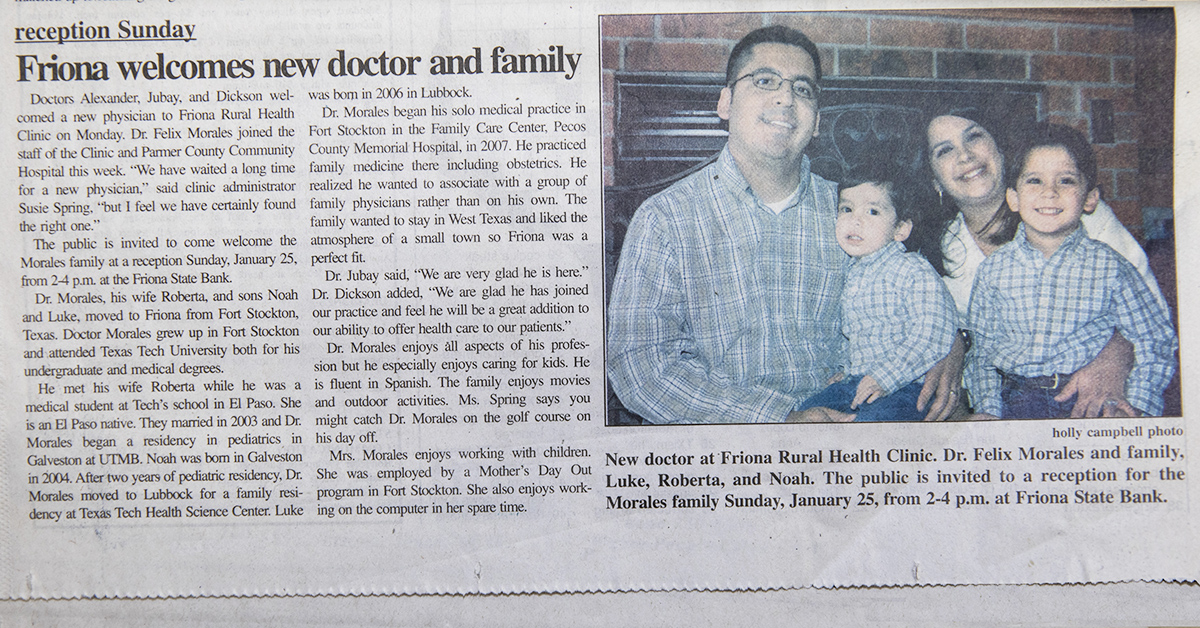 Morales served as a physician in Fort Stockton for a year and a half and Friona for three and a half years.

"When I was a resident in Lubbock, I had the opportunity to be the chief resident and had the experience to teach and practice," Morales said. "In 2012, Dr. Cook reached out to me to see if I wanted to come back to the big city to work as an assistant professor."

Morales, his wife Roberta and their two sons Luke and Noah, headed back to Lubbock. He started back at the TTUHSC School of Medicine teaching students and working with the fourth-year clerkship along with Dr. Fiona Prabhu. He continued to see patients of all ages.

Years later, Dr. Tom Tenner, then assistant dean of the School of Medicine, offered what Morales calls a job of a lifetime. The job would be assistant dean of the Office of Admissions advising and recruiting students, chairing the selection committee and also working to promote diversity within the School of Medicine. Later he transitioned into the associate dean after Dr. Kim Peck retired.

"I guess you can say I have come full circle, but still have a long career ahead of me," Morales said. "I started with the premedical society helping underrepresented students, and in this role, I continue to work with and mentor students."

Times have changed as Morales recalls his medical school days. When he applied and was accepted to medical school, he was one-in-four Hispanic students. There were no African- Americans and more men than women accepted.

"You have to remember during this time when I was accepted into medical school, the lack of diversity wasn't a Texas Tech situation but a state-of- the-times situation because of the Hopwoodcase." (Hopwood v. Texas was the first successful legal challenge to a university's affirmative action policy in student admissions)

Although Morales works in admissions, he still has a family medicine practice.

Morales practices family medicine at Texas Tech Physicians and works in TTUHSC School of Medicine admissions.
"Family medicine is still my passion,"Morales said. "My aha moment was during my first clinical rotation in Ob/Gyn, and I delivered my first baby. You are the first to touch that baby's head and that sensation you feel was second to none. At that moment all the sacrifices that you made are worth it."

As the School of Medicine celebrates its 50th anniversary, Morales reflects on those who came before him.

"Going through medical school, it's a tough task. And I feel like as an institution, we've done so much for our students, to make sure that they complete the task by providing tons of resources and support. When I came through, we had some of that, but not as much as they have now. And I can imagine the difficulty that the students had to face when the school first started. Thinking about the people that came before me, and this particular medical school being one of the newer schools in the state, it gives me a sense of pride, knowing, I completed the task."

Morales featured as a student at TTUHSC for his efforts to serve others.
Morales said he will not complain about the barriers he overcame in life and medical school.

"Being one in four was tough, but at least we had each other and were very supportive of each other. But I've seen pictures on the wall of the early classes, and if there were any underrepresented minority people groups, there were very far and few in between."

In 2015, Morales was asked to be one of the faculty advisors of the Bernard Harris Jr. Premedical Society and had the opportunity to sit beside and talk with Harris again.

"I said to him, 'You probably don't remember this, but we took a photograph the night we dedicated this group back in 1998.' He said, 'You know what, Felix, let's take another photograph together.' I was fortunate to meet someone like Dr. Harris on my journey. I was inspired. If he and others can get through this, I'm giving my best because I don't want to disappoint those before me."