Ashley Campbell
For years, Canyon resident Ashley Campbell lived with symptoms that eventually would lead to a diagnosis of Postural Orthostatic Tachycardia Syndrome (POTS), a dysfunction of the autonomic nervous system that has many causes.
POTS is often described as an invisible illness where the patient can look fine, yet have many internal and unseen symptoms such as problems with heart rate, blood pressure, digestion, sleep and others. Todd Bell, M.D., associate professor for the Texas Tech University Health Sciences Center (TTUHSC) School of Medicine, says POTS is relatively common in teens and young adults and is defined by a significant increase in heart rate with changes in body position.
"POTS is one form of dysautonomia and can cause problems with regulating the autonomic nervous system," Bell said. "The autonomic nervous system affects or controls most bodily functions that we do not have to actively think about, like heart rate, blood pressure, sweating, digestive process, etc. If a person has dysautonomia, they may have a broad range of symptoms because of all of the body systems involved."
Some people experience POTS after a concussion, while others may start showing signs after dealing with another illness. So, while its cause is unclear and its symptoms can vary from patient to patient, POTS is sometimes described as being the most common condition most people know nothing about. In fact, it's estimated that as many as a million people in the U.S. are living with POTS, and because it's a syndrome, its symptoms can vary from patient to patient.
Campbell began experiencing symptoms associated with POTS on and off for years, but she says it hit her "full-force" two years ago with blood pressure spikes, digestion issues, intense nausea and episodes of racing heart.
"In my case, POTS is caused by an autoimmune disorder," Campbell says. "With my POTS, every time I stand my heart rate responds like a normal person jogging in place. Because of this, I cannot stand for long periods or walk long distances. This is a huge adjustment for me because prior to this illness I loved hiking, and I went to Palo Duro Canyon on a regular basis. Now, that is not possible."
After seeing many doctors to no avail, Campbell conducted extensive research of her own and discovered her symptoms matched those of POTS. She was formally diagnosed in 2017 at a Dallas lab that administers autonomic testing, which measures the body's response to stimulation to determine if the patient's autonomic nervous system is functioning properly.
Upon her return from Dallas, Campbell told a friend about her illness and was surprised when the friend told her about POTS research being conducted by Bell, M.D. at TTUHSC. In addition to research, Bell had established a clinic in Amarillo for patients dealing with dysautonomia, a condition in which the autonomic nervous system is not properly functioning. Patients with dysautonomia may experience issues with their heart, bladder, intestines, sweat glands, pupils and blood vessels.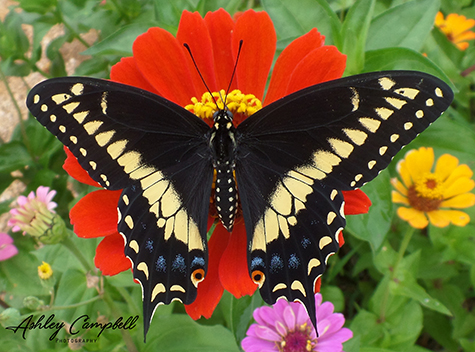 Campbell's Photography
"I was honestly in shock that I had a friend who knew what POTS was, and even more so when she told me there was a doctor here in Amarillo who was doing research on POTS," Campbell recalls. "I don't believe this was a mere coincidence; it was an answered prayer, and now I've been Dr. Bell's patient since May of 2017."
When Bell first came to TTUHSC's Department of Pediatrics, he says he met two hypermobile patients who had a "baffling array of symptoms" that could only be connected by their regulation through the autonomic system. By 2015, he had seen enough POTS cases that he helped launch the TTUHSC Hypermobility and Dysautonomia Clinic. To date, the clinic has seen more than 300 patients from 11 states.
"Although I had occasionally seen patients with POTS in the past, there was a paucity of information in the medical literature about how to manage this illness," Bell recalls. "I thought that if I had four or five other patients with similar symptoms I could better understand how to assist these young people. An important part of our research is focused on discovering why POTS and dysautonomia in young people occur more frequently in patients with joint hypermobility."
Living with POTS has created a new reality for Campbell. She must take a prescription for her heart rate, and because she can no longer tolerate heat, her time outdoors in the summer is limited. She also takes salt tablets to maintain blood volume and wears compression socks and hose to help her circulation.
"It's a lot to manage and nausea is a recurring symptom," Campbell explains. "Certain foods trigger digestive issues, so I have to be very careful what I eat. My diet consists of gluten-free, dairy-free and mostly sugar-free foods. Sleep can also be a challenge, and I have a daily routine to help manage my dry mouth and eyes."
There is no cure for POTS, and Bell says midodrine, the only FDA-approved drug for managing the disease, doesn't help many patients. Current research has shown intravenous immunoglobulin (IVIG) therapy to be the most promising treatment for POTS like Campbell's that is caused by an autoimmune disorder, but her insurance has thus far denied the treatment.
"IVIG is quite costly, and insurance like mine wants more research showing its effectiveness," Campbell adds. "Additional clinical trials are really critical for the many people trying to navigate this illness on a daily basis."
Though her battle continues, Campbell knows she has an ally in Bell. She says he is an excellent listener who shows sincere interest in her concerns. Because POTS is complex, Campbell has questions for which answers may be difficult, but she says Bell takes the time necessary to address those issues honestly rather than glossing over them.
"I have connected with quite a few POTS patients in this area, and everyone who sees Dr. Bell has overwhelmingly positive things to say about him," Campbell says. "I have given a lot of thought as to what makes Dr. Bell such a great physician and I would say a lot of it has to do with his sincere caring and concern for each individual patient. He not only is a skilled doctor, but also one who is willing to tackle a very complex illness. He is gifted, but humble, and he has enriched the lives of numerous patients in Amarillo because of his willingness to serve and support the POTS patient community."