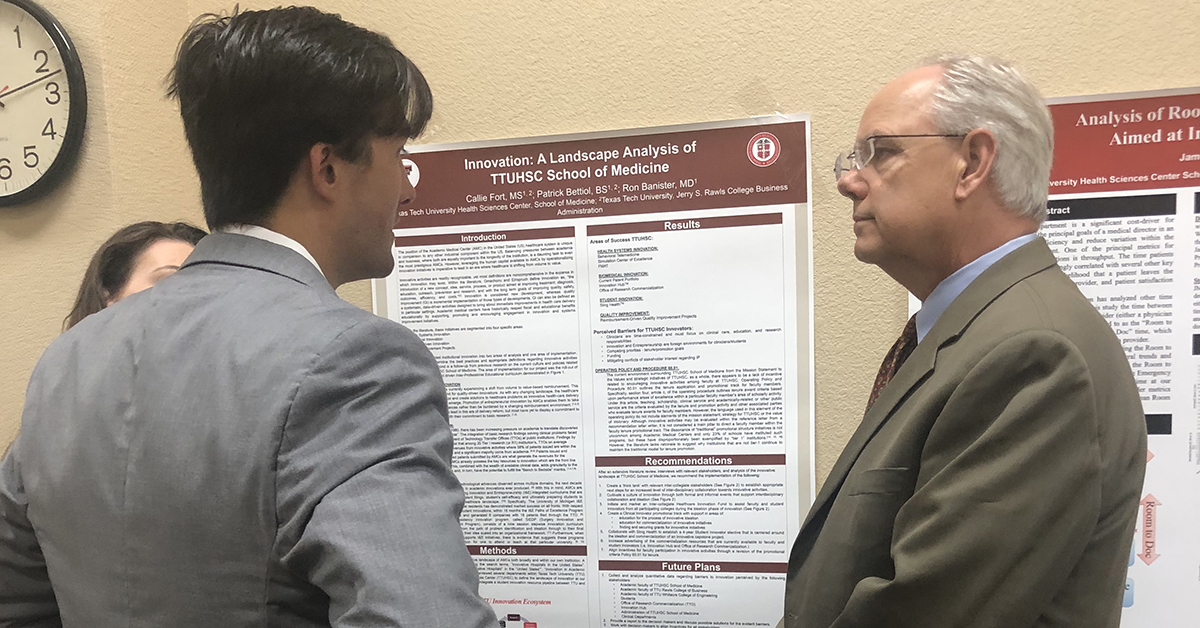 Fifteen TTUHSC School of Medicine MD/MBA candidates completed preceptorships this summer on the TTUHSC and UMC campuses. These students were tasked with completing 150 hours of field experience time that included research, observation, interviews and surveys, data compilation and analysis, and project management. The final result for each student was a research poster describing their project that they presented in front of fellow students, physicians, and TTUHSC administrative staff.
Student projects focused on various topics like no-show rates, telemedicine, Transitional Care Management, and coding. Throughout the duration of the summer, students had unique experiences in emergency and operating rooms, clinical settings of local detention centers, and the clinical departments of the TTUHSC. The field experience is expected to provide the students with health care management opportunities not readily available from classroom situations, such as functioning as a professional member of a healthcare organization, assuming responsibility for management, planning, and policy activities related to actual health care problems, and observing first-hand how executives adapt to the unforeseen circumstances and changing objectives of today's turbulent health care industry. Many of the students were able to survey providers and Patient Services Staff directly in order to collect robust data straight from health care professionals.
This unique experience offered to the students of the School of Medicine allows for an exclusive and in-depth look at the cogs that make the TTUHSC wheel turn. Their research efforts and findings have already been recognized as useful and progressive by the departments of our organization. We would like to extend much gratitude to those who served as preceptors for our students this summer and worked diligently to ensure that the students had valuable experiences.