Raider Red & Dr. Richard Lampe at the TTUHSC Veteran's Day Ceremony
Texas Tech University Health Sciences Center (TTUHSC) honored veterans with a Veterans Day celebration Nov. 12 at the TTUHSC Academic Classroom Building.

Veterans Day is observed annually on Nov. 11, the anniversary of the signing of the armistice, which ended World War I hostilities between the Allied nations and Germany in 1918. Texas Tech University System Chancellor and TTUHSC President Tedd L. Mitchell, M.D., said it is important to show appreciation to veterans and soldiers.

Texas Tech University System Chancellor & TTUHSC President Tedd L. Mitchell honors veterans.
"It is tradition at our university to observe Veterans Day and remember their service to our country with respect and gratitude for their sacrifices and dedication to our nation," Mitchell said.

The ceremony began with MusiCare's Serotonins singing the national anthem and a Wall of Honor was on display with photos of TTUHSC veterans, military and family who have served.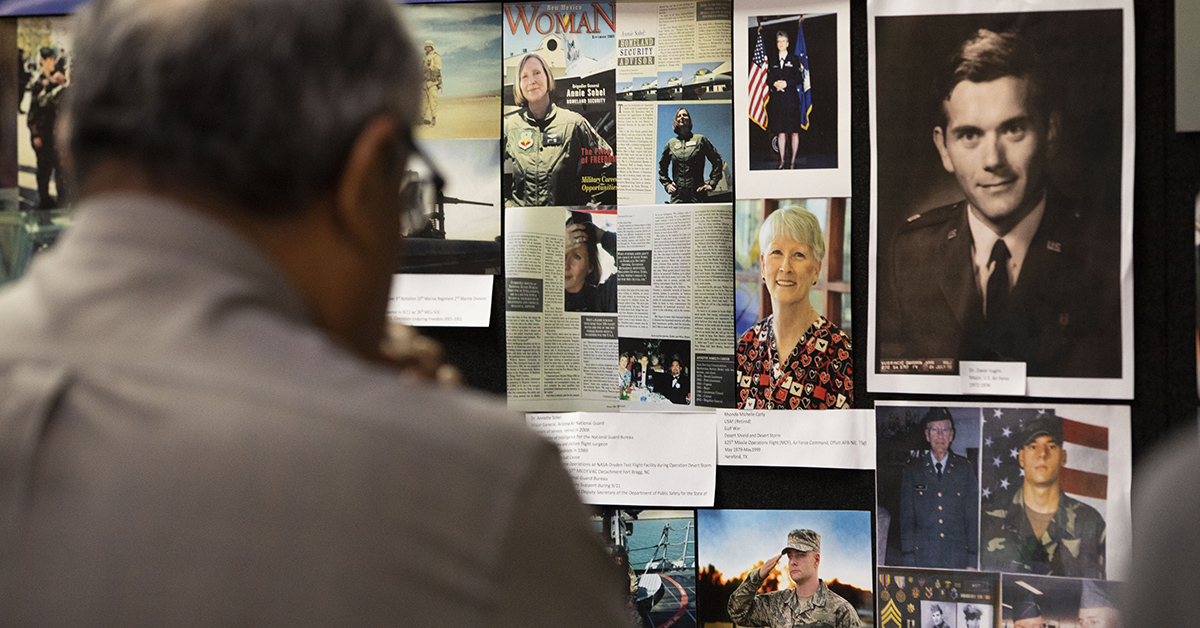 Veteran's honored with a veteran's wall featuring TTUHSC faculty, staff, students, & alumni who have served in the military.
A veterans panel, introduced by Sara Henly, a U.S. Navy veteran and the Veteran and Military Advisor for the Office of Student Serves, was moderated by Kyle Chapman, TTUHSC School of Nursing Veteran Liasion.

Former Surgeon General of the U.S. Army, Dr. Bernhard T. Mittemeyer, and second year medical student, Alec Egan, at the Veteran's Day ceremony.
Also at the event was a veterans resource fair and the U.S. Marine Corps Reserve was present to accept donations for Toys for Tots. New unwrapped presents will be accepted through Dec. 12 at the Office of the President and the Office of Student Services, 2C400.
The TTUHSC Veteran's Resource Center in Room 218 of Preston Smith Library is now open for all military students.