On any given day you can find PJ and his barbers behind their chairs cutting customer's hair. Long-time loyal customers now bring their sons to get a cut from their favorite barber. The relationship between a barber and his customer is almost like family. Conversations about work, school and life are common as the barbers give the customer a perfect cut.
Barber Shop Project Leadership Team at PJ's Barber Shop
Texas Tech University Health Sciences Center medical students have worked with barbershops and beauty salons to tackle a silent killer — high blood pressure. The Barber Shop Blood Pressure Group allows customers to do one-stop shopping when it comes to their barber and their health. The group gives the community the opportunity to have their blood pressure and BMI checked as they wait on their barber or beautician.

Students work to promote awareness of the importance of the issues of high blood pressure, or hypertension, and provide health information. E.L. Domingo-Johnson's father died of heart failure at an early age. Now as a second-year medical student and president of the Barber Shop Blood Pressure Group, he sees the importance and need for a project like this for communities.

"My family is an example of who we are trying to reach," Domingo-Johnson said. "My father was African American and as a kid I went with him to get hair cuts at the barber regularly. I was at a barber shop way more often than I was at a doctor's office, which makes programs like this so important because we are finding people who may have not received the care that they needed."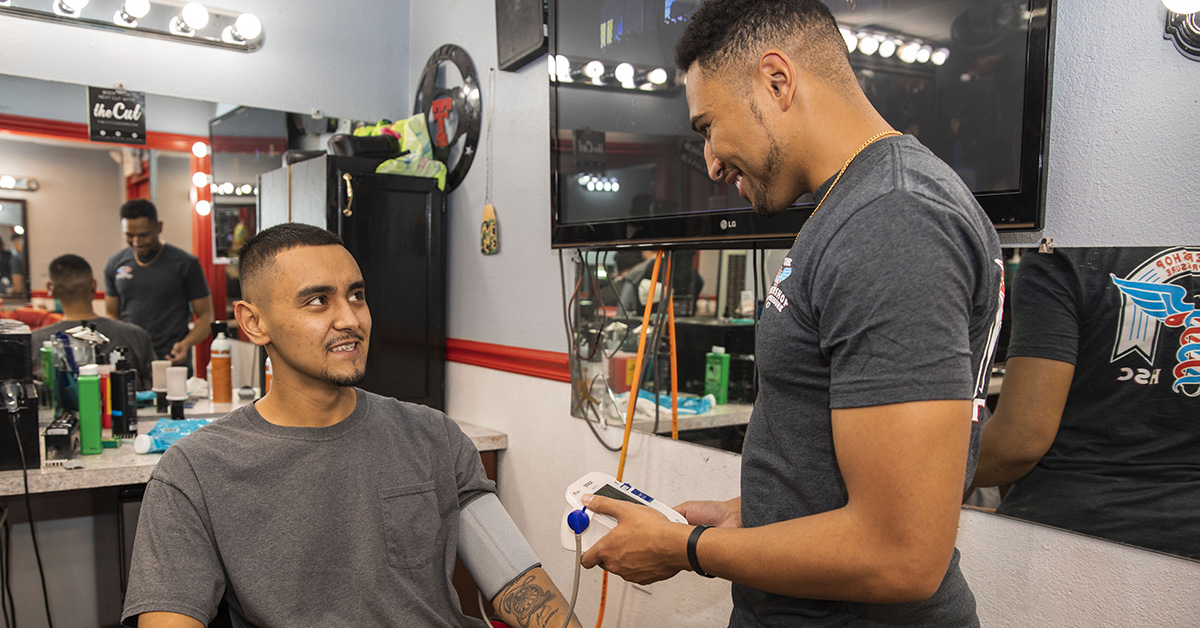 Domingo-Johnson assists a client with his blood pressure
The medical students respect the relationship customers have with their barber or beautician, who are motivators to give the customer a nudge to get their blood pressure checked while they wait. It takes no time out of their day to learn if they are at risk so they can seek appropriate health care.

The Barber Shop Blood Pressure Group was created 10 years ago by two TTUHSC School of Medicine students Kweku Hazel and Soheil Daftarian.

"Texas Tech University Health Sciences Center School of Medicine is a community-based medical school that derives great support from its community and looks for ways to give back to the people of West Texas," said Steven L. Berk, M.D., TTUHSC executive vice president, provost and School of Medicine dean. "It has been a successful project for these 10 years because medical students truly care about their community and are willing to volunteer their time despite very busy schedules."

Barber Shop Project Leadership Team, second year TTUHSC medical students
Berk said medical students work with barbers and hairdressers to educate patrons about high blood pressure, teach barbers to measure blood pressure and take blood pressures of patrons, particularly those who do not have a doctor. First- and second-year medical students work with the School of Medicine dean's office to volunteer to visit more than a dozen barber shops on Saturday mornings.

"We help bridge a gap between the community and access to health care," said Stacy Philip, a second-year medical student and Barber Shop Blood Pressure Group leadership team member. "Not only do we conduct blood pressure health checks, but we also provide education on how to integrate healthy food options into clients' diets, tips about exercise, incorporating preventative measures into their health maintenance and ways to access health services if they are not able to."

Barbers, beauticians and their clients have had a positive response to the project.
Kristie Benejan measures a client's blood pressure
"At first there is hesitation from the clients, but when they see others getting checked they are receptive to it," said Bella Kalayilparampil, a second-year medical student. "One dad who was there said he worked out but his blood pressure was high. He had a family history of hypertension and did not know that was a factor. This project is a lot about education. Now the dad is very open to the blood pressure checks."

Domingo-Johnson said having a medical school back such a project has an impact on all generations.

"At my barber shop, I help more of an older generation cliental," Domingo-Johnson said. "They are not as excited the first time around. I worked with a gentleman who knew he had high blood pressure but he didn't like the effects of his medicine. I talked to him about visiting his physician and relaying that information to him to have the medications switched. We also help them better understand how to ask questions and talk to their doctors."