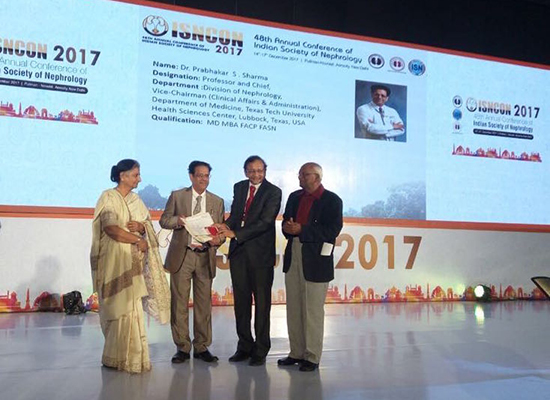 The Indian Society of Nephrology recently presented the KS Chugh Award-Oration to Sharma Prabhakar, M.D.
Prabhakar, a professor in the Department of Internal Medicine and chief of the Division of Nephrology, was presented the award at the Annual Conference of Indian Society of Nephrology in India. Chugh, the first Indian physician to train in nephrology, is regarded as the founder of the nephrology specialty in India and established the first nephrology-training program.
The Indian Society of Nephrology focuses on the advancement of education and practice aimed towards improving care of patients with kidney disease.
"This is the highest award bestowed by the Indian Society of Nephrology," said Steven L. Berk, M.D., Texas Tech University Health Sciences Center executive vice president, provost and School of Medicine dean. "This award recognizes exemplary leaders in the field of nephrology. We are proud of Dr. Prabhakar for his commitment to excellence in patient care."
Prabhakar has conducted both basic and clinical research in nephrology for the past 25 years. His main contributions are in the areas of nitric oxide and kidney and diabetic kidney disease, about which he published books. The American Heart Association and other agencies funded his research. He also conducted clinical studies in chronic kidney disease, which were funded by the Texas Department of Health. He has more than a hundred publications including original and review articles, book chapters and has authored four textbooks. Among his other accomplishments are the Dean's research award, UMC Endowed Chair and former president of the American Federation of Medical Research.