The Children's Home of Lubbock has a number of children they help every day. And a little help from Santa Claus this summer now will give their children a comfortable place to sleep.

"I can just imagine our kids coming home and getting a great nights sleep all because of the generosity of Texas Tech Physicians," said Jimmy Moore from the Children's Home of Lubbock.
Christmas came early for three local community non-profit organizations as Texas Tech Physicians hosted Christmas in July for Kids. Texas Tech Physicians Christmas in July for Kids benefited Children's Home of Lubbock, Ronald McDonald House and Women's Protective Services in hopes of bringing much needed items during the summer months. Matt Driskill, Texas Tech Physicians – Surgery administrator, said this has been a unified effort to help the children of West Texas.
"We always hear of the great efforts made during the Christmas holidays, but Texas Tech Physicians wanted to help these wonderful organizations during the summer months," Driskill said. "We asked each one what their main needs were especially for children and our faculty and staff really came out to support the children of these organizations."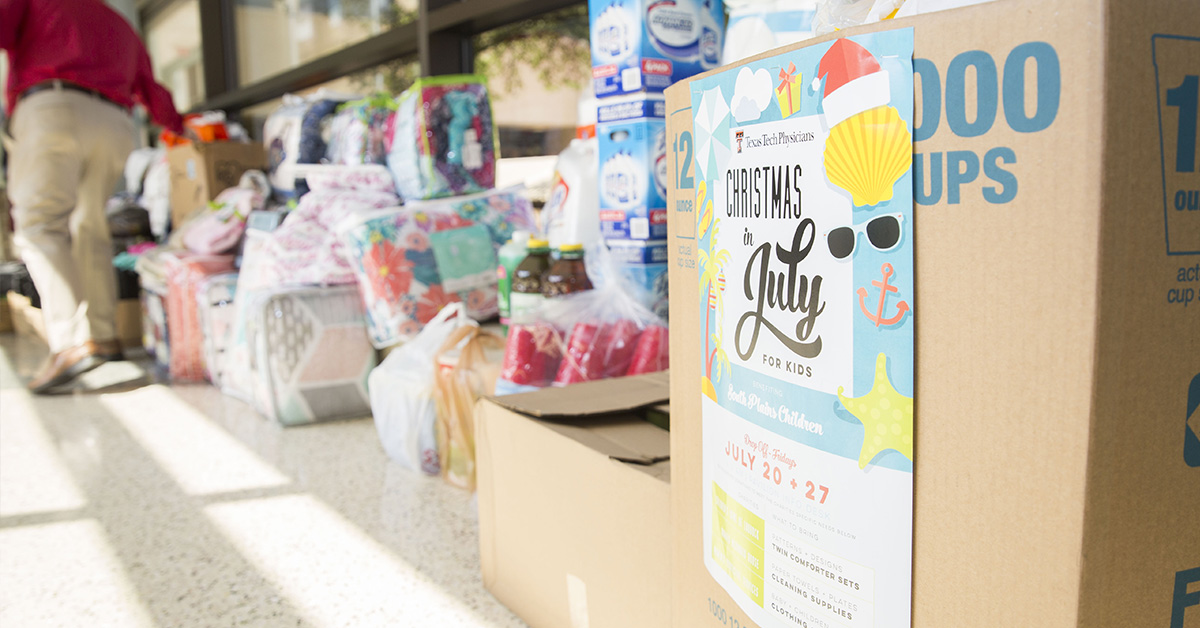 Items such as comforter sets, cleaning supplies, clothing and school supplies were donated. Approximately $6,000 in donations and cash was contributed.
"We fly through supplies with the amount of clients we help throughout the year," said Emmanuel Ramirez from the Ronald McDonald House. "To receive these donations is huge for us."

Women's Protective Services requested school supplies and were excited to load the items to take back to their non-profit community.

"Now many of our kids will have a great first day of school," said Kim Reid with Women's Protective Services. "Having the basic supplies help them feel like they fit in, and it makes a huge impact with the kids we serve."

"Our hope is that others in the community also will see this drive and think of these organizations and others that need help year round and not just at Christmas time," Driskill said.

About the organizations:

Children's Home of Lubbock – on any given day, an average of 145 boys and girls are in
care in their various programs. Their mission is to care for children and families in crisis.

Ronald McDonald House – families are provided with the stability and resources needed,
whether staying nearby to support a hospitalized child, affording to stay together in an
unfamiliar city while a child is undergoing treatment or even to receiving basic medical
care in a vulnerable or rural community.

Women's Protective Services specializes in advocacy for those who experience domestic
violence by providing a safe environment, offering community education, prevention,
rehabilitation of violent family members, encouraging transition to self-sufficiency and
advocating for the prevention and elimination of family violence.