Texas Tech Physicians Discussed Treatment Process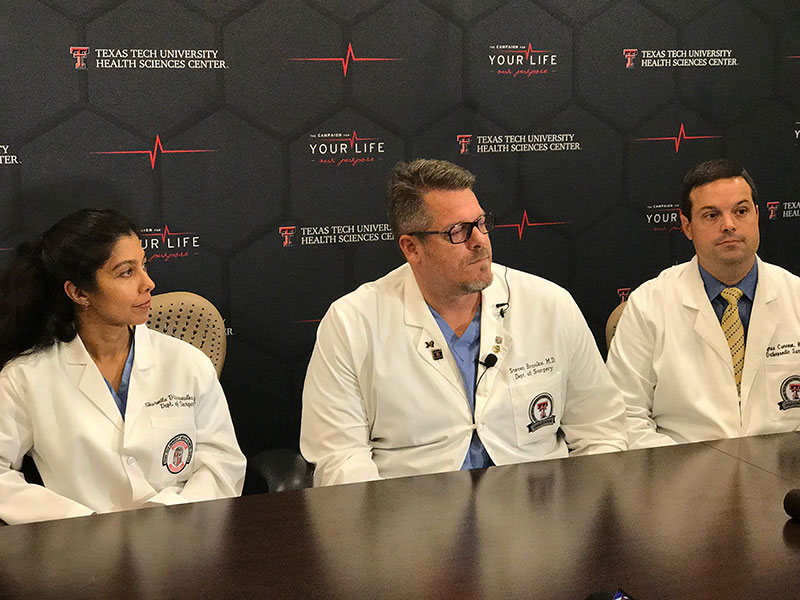 Left to right: Texas Tech Physicians
Sharmila Dissanaike, M.D.,
Steven Brooks, M.D., and Cyrus Caroom, M.D.
A New Mexico shooting at the Clovis-Carver Public Library on August 24 left two women dead and four others injured.
Steven Brooks, M.D., a surgeon at Texas Tech Physicians and trauma medical director at University Medical Center, was the on-call trauma surgeon. He was contacted by Plains Regional Medical Center in Clovis and arranged for the patients in order of priority injuries to be transported to UMC in Lubbock. Clovis is a city of 40,000 about 100 miles southwest of Amarillo.
UMC and Texas Tech Physicians cover West Texas and eastern New Mexico. Brooks along with Cyrus Caroom, M.D., an orthopaedic surgeon at Texas Tech Physicians, treated the patients for various injuries.
"The Trauma Team at Texas Tech Physicians and University Medical Center are pleased to announce that all victims of the tragic Clovis library shooting are stable," Brooks said. "All four patients have received definitive surgical treatment and are recovering well from their injuries. We are honored to have the resources and Level 1 Trauma Center capability to serve our community in West Texas and Eastern New Mexico whenever tragedy strikes. We also are grateful to our superb team of Texas Tech Physicians trauma surgeons and nurses and other health care professionals working at the John A. Griswold Trauma Center at UMC as well as the first responders, police and hospital in Clovis, NM who took excellent care of these patients prior to transfer to our Level 1 Trauma Center."