Montford Art Exhibit Unveiled
Texas Tech University Health Sciences Center (TTUHSC) Correctional Managed Health Care unveiled the "Montford ART Exhibit: A Patient Art Series" featuring 50 works of art and poetry created by patients with mental illness from the John T. Montford Unit.
According to the National Alliance on Mental Illness (NAMI), nearly one in 25 adults in the U.S. live with a serious mental illness. Twenty four percent of state prisoners have a recent history of a mental health condition. NAMI also states that nearly 15 percent of men and 30 percent of women booked into jails have a serious mental health condition such as schizophrenia, major depression or bipolar disorder.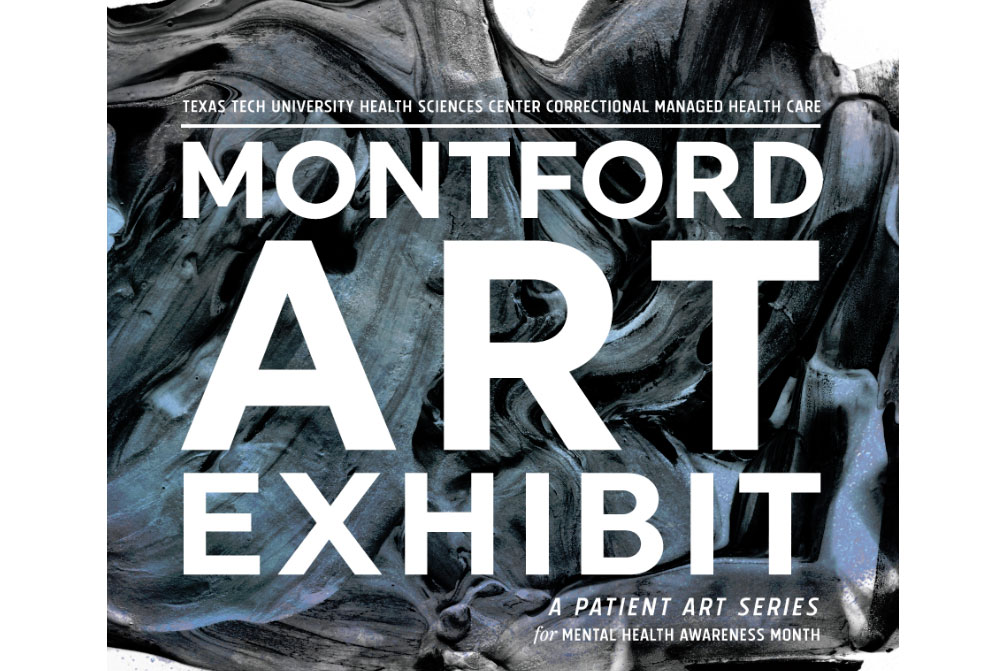 Cynthia Jumper, M.D., vice president for Special Health Programs, said inmates at the Montford Unit are patients that happen to be in a correctional setting.
"Mental illness needs to be addressed," Jumper said. "Studies have shown that art therapy is effective for a variety of mental health conditions. Therapeutic services we provide can help improve or reduce the physical symptoms of a person's disorder."
The therapy staff at the Montford Unit provides therapeutic services that range from basic psychosocial education to intensive psychotherapeutic treatment. Therapy sessions are customized to the individual or group's interests and cognitive abilities. Art activities provide opportunities for patients to express their thoughts and feelings while teaching them a life- long coping skill. Jumper said community partners and volunteers donated all art materials.


Two examples of art featured at the exhibit include:


• A patient with a schizoaffective disorder who routinely participates in therapy sessions where he learns about his illness, medications, symptomology and ways to manage his symptoms and cope with stress. He enjoys drawing while listening to music.
• A patient who had a significant history of self-mutilation and debilitating depression taught himself to draw. His art has become his main source of expression and primary coping skill and has enabled him to stop his self- harm behaviors.
"The personal and therapeutic benefits patients receive through art activities are significant," Jumper said. "Also, having the opportunity for patients' works of art to be displayed is another benefit as it validates the worth of their expressions. Most importantly, we hope to help educate the community about benefits of art therapy for people with mental illness."