Medical Students to Host Annual Charity Gala & Casino Night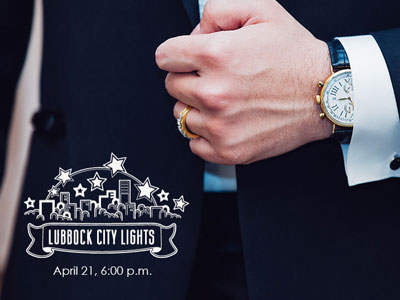 Texas Tech University Health Sciences Center (TTUHSC) School of Medicine first-year students will host the 20th Annual Lubbock City Lights Casino Royale Charity Gala & Casino Night at 6 p.m. April 21 at the Overton Hotel and Conference Center, 2322 Mac Davis Lane.
Medical students began the Lubbock City Lights tradition in 1997. Since then more than $450,000 have been raised and helped numerous local charities and organizations in the West Texas community. This year's executive co-chairs of the event are Samar Dadashazar and Declan Kirk.
"Supporting deserving charities that provide services for Lubbock and contributing to our community is a privilege," Dadashazar said. "Our hope is to make this milestone 20th year the biggest year ever."
Lubbock City Lights will include a cocktail hour, silent and live auctions, live music and a plated dinner. Afterwards, Casino Night will commence with dancing and casino-style games. Lubbock City Lights' Casino Night will include an evening of games including blackjack, Texas Hold 'Em, roulette and craps. There is no money exchange and no value associated with the tokens used to play. Players are encouraged to donate in exchange for tokens. Tokens are then exchanged for tickets, which may be put into drawings for various prizes. Prizes awarded are not equivalent to the amount donated.
"This year's Casino Royale offers fun for the community," Kirk said. "By attending Lubbock City Lights, you can take pride in knowing your support will benefit four great organizations."
This year's charities include:
The TTUHSC Free Clinic at Lubbock Impact is a student-run initiative that offers medical services, health education and social resource counseling to the uninsured community of Lubbock every Wednesday evening from 6 to 9 p.m.
The Boys & Girls Club of Lubbock meets the needs of Lubbock youth by providing a safe, positive place for recreation and learning. The Boys & Girls Club of Lubbock has grown in membership and touched the lives of over 4,000 youth through its four service locations.
Catholic Charities Diocese of Lubbock provides compassionate, competent and professional social services that respond to those in crisis and offers resources and support to individuals and families in West Texas communities.
Ronald McDonald House Charities of the Southwest keeps families close during their child's serious illness or injury. They provide families with the stability and resources needed, whether their problems involve staying nearby to support a hospitalized child, affording to stay together in an unfamiliar city while a child is undergoing treatment, or even to receiving basic medical care in a vulnerable or rural community.
Tickets for Lubbock City Lights are available online. Community members are encouraged to buy tickets for the Charity Gala & Casino Night for $90 or Casino Night only for $75. Tickets for students are $60.
For more information, to purchase tickets or make a donation, visit lubbockcitylights.org.