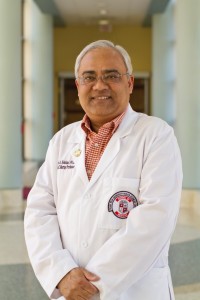 Texas Tech University Health Sciences Center (TTUHSC) researcher Afzal A. Siddiqui, Ph.D., a Grover E. Murray Distinguished Professor at the TTUHSC School of Medicine, received a $3.82 million grant from the National Institutes of Health (NIH). The three-year NIAID/SBIR-R44 Phase II Grant is to prepare the Schistosomiasis Vaccine (SchistoShield®) for human clinical trials. This phase of the research funding is in collaboration with Darrick Carter, president and CEO of PAI Life Science in Seattle, WA.
Over 200 million people suffer from the disease in 74 countries and four times that many are at risk since they do not have access to clean water. A recent discovery in Siddiqui's TTUHSC research laboratory may make it possible to reduce the number of infections from this disease.
According to the World Health Organization, there are no commercially available vaccines against schistosomiasis, which afflicts people primarily in Asia, Africa and South America.
A person gets a schistosoma infection through contact with contaminated water. The
parasite swims freely in open bodies of water. Once contact is made with humans, the parasite burrows into the skin, matures into another stage, and then migrates to the lungs and liver, where it matures into the adult form.
"Dr. Siddiqui is the quintessential investigator and has brought distinction not only to this research but to our university," said TTUHSC President Tedd L. Mitchell, M.D. "We are extremely proud of his work and congratulate him on this NIH grant."
The vaccine, "SchistoShield®" potentially can impact up to one billion people.
Siddiqui also recently received a U.S. patent for the schistosomiasis vaccine. With this NIH grant and an ongoing Bill and Melinda Gates Foundation grant, Siddiqui's research team has over $7 million in current grant funding and over $11.5 million in total funding thus far on this project.