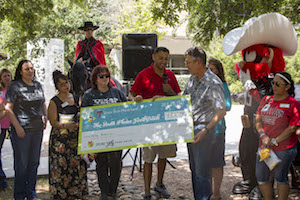 Santa Claus came to town. But this time around, St. Nick was decked out in a Hawaiian shirt and sunscreen. A Christmas in July beach party concluded the month-long "Christmas in July, A Texas Tech Physicians Food Drive," on July 29 at Texas Tech University Health Sciences Center. A check was presented to the South Plains Food Bank of $9,700 in dollars and food items.
The food drive benefits the South Plains Food Bank in hopes of bringing much needed food items to those in need during the summer months food drive. The South Plains Food Bank serves more than 9,000 families in need every month. Matt Driskill, Texas Tech Physicians – Surgery administrator, said this has been a unified effort to help end hunger on the South Plains.
"We always hear of the great efforts made during the Christmas holidays, but Texas Tech Physicians wanted to have an internal competition to help the South Plains Food Bank during the summer months," Driskill said. "Each week the various Texas Tech Physicians departments focused on items most needed by the food bank."
The Christmas in July, A Texas Tech Physicians Food Drive ran from July 5 – 29. Driskill said organizers wanted to celebrate the food drive's success with a beach party. Texas Tech Physicians employees gathered to have summer fun with games and refreshments to raise more money for the food bank.
"We have had wonderful support from everyone wanting to give back to our community," Driskill said. "The South Plains Food Banks' theme is Together We Can End Hunger. I think Christmas in July is a perfect example of how Texas Tech Physicians is giving back and working together."