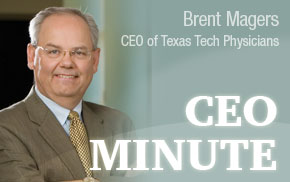 In 1991, I was in Odessa's Medical Center Hospital's director of radiology's office waiting to speak with him. I happened to pick up from his coffee table a copy of "Seven Habits of Highly Effective People" by Stephen Covey, Ph.D. The director saw that I was interested in the book. "Why don't you take that book, read it and bring it back when you are done?" he asked. I did exactly that.

Material in the book became very meaningful to me. It really resonated with me then and now. I became a "buyer" of what Covey is selling in the book. It just makes so much sense to me—to show initiative, plan one's work, organize one's work around priorities, help others be successful (and yet not subjugate one's own goals so that both parties can do well) and listen before trying to share one's thoughts in a conversation (but, eventually sharing and getting across one's own thoughts), to work with others and to stay mentally, physically and spiritually fit by "sharpening the saw." What is there not to like about this philosophy?

So, I went to one of Covey's three-day courses in the Austin area. I became "certified" in his methods. I read his other books. I heard him speak at hospital meetings. In short, I bought his ideas "hook, line and sinker." You know, I haven't regretted it. There are newer books on management, and his book is not as popular now at it was during its heyday. Still, "Habits" has sold more than 25 million copies and continues to be used in leadership training at companies and universities worldwide. The habits are easy to understand, by the way, but difficult to apply in practice. I still am a long way from mastering them.

A couple of cool things: Suzanne Shaw who headed our home health agency (when I was a hospital administrator) and I went to a meeting in Salt Lake City wherein Covey was one of the speakers. Suzanne knew that I liked Covey's works and said, "Let's go meet him after his presentation." I agreed and it was quite a thrill for me to get to shake his hand and chat with him for a few minutes. Another cool thing is that a few years back, the dean of our medical school presented me with leather-bound, autographed copy of "Habits"as a gift. I appreciate that book a great deal and it is in my library at home.