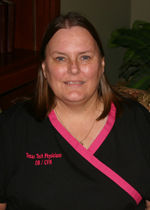 Alice Vaughn, RN, an OB Clinic Nurses who works at the HealthPoint OB site, was selected to be a guardian on the upcoming KCBD Honor Flight leaving Lubbock on October 1. The flight takes South Plains Veterans, who have seen combat duty, to Washington, DC, to see all of the War Memorials and monuments, and take special tours. The group of honored Veterans consists primarily of WWII Veterans. Due to their advanced age (late 80's and early 90's), one guardian is required for each wheelchair veteran OR one guardian for every three ambulatory veterans.

Vaughn, who has over 24 years of Emergency Nursing experience and whose own father retired from the Army, applied to the Honor Flight last December when she heard that guardians were needed for the 2014 trip. After nine months of anxiously awaiting feedback from her application, two weeks ago she received word that she had been selected.

The KCBD Honor Flight leaves on October 1st. We look forward to providing updates on Alice's journey.

Guardians pay their own expenses for the flight and the cost is $1,600. If you would like to make a contribution to Alice Vaughn's travel fund, please get in touch with Ahnna Parker, Director of Nursing Services and Infection Control at 806 743-1441 or ahnna.parker@ttuhsc.edu.