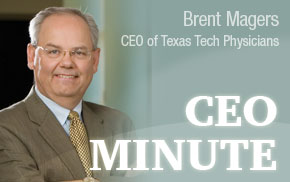 Texas is a wonderful state in so many ways. I admit, as a "fourth-generation" Texan, I am a bit bias. I also know that many people here at our school come from places all over the world. That is great! All are welcome and add to our rich diversity—making Texas Tech University Health Sciences Center an exciting and interesting place to work.

Texas provides many services for its citizens from operating state parks to patrolling our highways. All of the services provided cost the taxpayers of Texas a great deal of money, approximately $96.925 billion in 2013.

You might be interested in knowing that health spending accounted for 41 percent of the state budget in fiscal 2013. Most of the money is for Medicaid recipients, though funds also go to other programs such as the Children's Health Insurance Program and some public hospital funding.

It is interesting that health outlays have expanded rapidly in recent years amid soaring medical costs and a state population growth rate that was double the nation's. In fact, health spending is about 20 percent larger than education. Here at TTUHSC, we are obviously interested in funding for both education and direct funding for health care.

This point is often made by commentators, but, Texas ranks last in the proportion of its residents with some form of health insurance coverage. This is true even though health spending is a large and growing portion of the state's budget, as we are discussing. I think we have this situation because of Texas' large undocumented population. This cohort is more likely than citizens and legal residents to lack coverage. I also think that part of it results from the low income level at which Medicaid eligibility is cut off in Texas. For example, non-working parents qualify for Medicaid only if their incomes are below 12 percent of the federal poverty line (FPL.) The cut-off for working parents is 26 percent of the FPL — just over $4,960 a year for a family of three.

We enjoy a strong economy in Texas, and it is interesting to stay informed on statewide spending and various issues.