Advocates for Special Needs Athletes (ASNA) of TTUHSC invite you to Capital Pizza for today's "Pizza for a Cause" event from 6-10 p.m. ASNA is an organization dedicated to funding and providing people of all ages with special needs the opportunity to participate in and develop through athletics, competition, and a commitment to health. Enjoy some of Lubbock's best pizza and help support ASNA!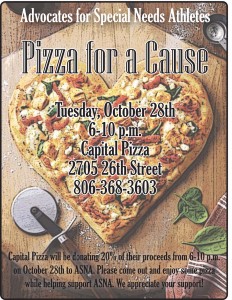 Proceeds will be used to help fund the second annual Queue for a Cause fundraising event, also hosted by ASNA of TTUHSC. This event, benefiting The Refuge and Special Olympics of Texas, will help raise money for local events including unified sports, the new soccer program, meet in the middle, and leadership development programs for those with special needs.

At Queue for a Cause, ticket holders will have a chance to socialize, eat dinner, and bid on silent auction items, live drawing items, and "quarter bid" items. The participation in the event revolves around the "quarter items" on which you will bid using purchased paddle numbers and pay a quarter to throw your number in for the item. You can win great items for only a quarter! There will be a speaker from the local special need community, a fantastic catered dinner, including a wine paring, and great items on which you can bid and win.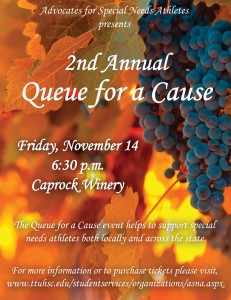 For more information regarding Queue for a Cause, please visit here: http://www.ttuhsc.edu/studentservices/organizations/asna.aspx.