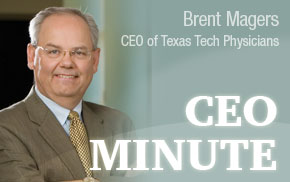 Thanksgiving, a classic American holiday, is in many ways, my favorite. Without the added pressure of shopping and wrapping, it's refreshing to simply enjoy the day. The requirements for a delightful 'Turkey Day' in my family are a good appetite and a high tolerance for televised football. I certainly have the appetite component down. With the Dallas Cowboys (finally) on top of their division, a good time will definitely be in order. Not to mention, a chance to cheer on our Red Raiders this Saturday.

In all sincerity, it is a privilege to give thanks for our families and all that we have been so fortunate to receive throughout the year. I believe we are truly a blessed nation. We all have so much to be thankful for, and we should feel compelled to utilize this once-a-year opportunity to acknowledge the many good things that we so often take for granted.

At the top of my list of things I'm grateful for are the people with whom I have the privilege of working. Texas Tech Physicians and the entire Texas Tech University Health Sciences Center have some of the most talented, big-hearted people around. We don't realize what kind of impact we make by saying a kind word to a co-worker. Telling someone you are grateful to know and work alongside him or her can make all the difference. We have our fair share of struggles and challenges from insurance companies to computers, and telephones to time management. However, this Thursday, let's all collectively say a big word of thanks. This year I am especially grateful for my new granddaughter – Rosemary Kathleen. Stop by my office, and I'll show you her picture!