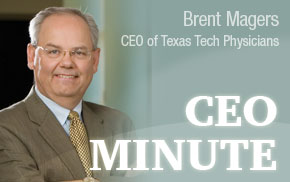 You have no doubt heard of the recent problems of the Veterans Affairs (VA) Health System. Having spent many years in health care administration and knowing, as all of you do, the challenges — I feel primarily empathy for our VA friends. Any lack of empathy that I might feel toward the VA would be because of the charge of falsifying scheduling data. There is no place for that type of activity. But, innocent until proven guilty and we will have to see how it turns out. According to the media, the matter is being thoroughly investigated.

Regarding the topic of patient scheduling, VA guidelines say patients should be seen within 14 days of their request (the average wait time at the VA's Phoenix facility was 115 days.) Fourteen days is difficult and often not done in the private sector. Despite our best efforts, we cannot consistently see everyone who asked to be seen within 14 days at Texas Tech Physicians. We do have "walk-up" service in family medicine and pediatrics. But, to see a particular physician, perhaps a specialist, it is a matter of supply and demand — and much of it depends on the nature of the visit. For example, is it a health problem of long-standing or it is an urgent matter? (We will always figure out a way to quickly see the urgent and emergent.)

Americans in and out of the VA System do not like to wait on appointments — it goes against our grain. I contend this is one reason that America's per capita health care costs do not compare favorably to other developed nations (and it's multi-factorial, of course.) We do not want people to have to wait. We are not like England where people will "queue up" to get in to see a doctor. We will accept some delay — but not much — and there is a cost to this philosophy, and I am not against it, just pointing out it is a societal decision and not without cost to the system.

Why is the VA experiencing delays? Well, I only know what I read and hear, but, it is my understanding they have a serious shortage of primary-care physicians. According to Modern Healthcare magazine, the VA has some 400 openings for primary care doctors. How would you like to be trying to recruit 400 primary care doctors at one time? Furthermore, it is expected that the strain on the VA System will only be exacerbated with the expected discharge of 1.5 million service members over the next two to three years.

To wrap up this column —Texas Tech Physicians proudly serves our veterans. I think we are very patriotic in that regard and count it a privilege to serve this group. We have several contracts to provide services and see many VA patients on a "fee-for-service" type arrangement. I suspect that we will see more of the latter types in the days ahead.

In my opinion, this is the time to lend a hand to our VA friends and not give them a lecture. In many ways, the VA does an excellent job — and I base this on published patient satisfaction surveys and published quality data. For example, according to a recent article in the "Wall Street Journal," Boston's VA hospital has a central-IV-line, bloodstream-infection rate that was 63 percent below the average of the top-performing hospitals in the nation. It also had a slightly better-than-average, 30-day mortality rate for acute care.

So, the VA is a huge and complex system with variation in performance. The same can be said of a lot of systems. As Americans, I think we all want to see the VA improved and hope they can find solutions to the issues that have focused the spotlight on them.