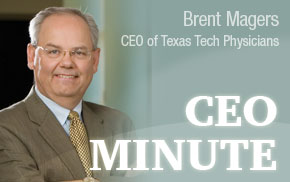 A few weeks ago I wrote in this column about the troubles of the Department of Veterans Affairs, and how Texas Tech Physicians is committed to helping our nation's veterans. We obviously have limitations of available capacity and other constraints; but, I would say we are a patriotic bunch — more than willing to lend a hand to those who have served our country through the military. We have had some discussions with VA representatives on what form that assistance might take. As you know, the troubles of the VA have dominated much of the media for the past several weeks having only been pushed recently off the front page (so to speak) by international conflicts.

Anyway, I want to revisit the subject of VA health care because today it was announced that key members of a negotiating team from both houses of Congress have reached an agreement that will likely authorize about $17 billion to help veterans avoid long waits for health care. The plan is to do this by hiring more doctors and other providers to diagnosis and treat our veterans. My first thought was where will the VA find all of these new providers? (BTW, this might be an opportunity for TTUHSC to stand in the gap, since we educate doctors, advanced nurse practitioners and physician assistants. A specialization in veterans' medicine? That is for others to decide — just a thought.) I do know looking for primary care providers comes at a time when the Association of American Medical Colleges is warning that there will be a shortfall of 45,000 primary care physicians by 2020. The "New York Times" has a good editorial on the doctor shortage, if you want to look it up. Google: "Bottleneck in Training Doctors," and the story is in the July 19th edition.

Breaking down that $17 billion — the VA bill includes $10 billion in emergency spending to make it easier for veterans who cannot get prompt appointments with VA doctors to obtain outside care; $5 billion to hire doctors, nurses and other medical staff; and about $1.5 billion to lease 27 new clinics across the country, according to an Associated Press story. The bill requires the VA to pay private doctors to treat qualifying veterans who cannot get prompt appointments at the VA's nearly 1,000 hospitals and outpatient clinics, or those who live at least 40 miles from one of them. The nearest VA hospital to us is in Amarillo. Of course, we have a VA Clinic in our community, that we have always supported by faculty offering care there.

As I said in the first column, I personally wish the VA the best — they are a huge federal agency with more than 300,000 full-time employees and they play a critical role in serving millions of veterans who depend on them.