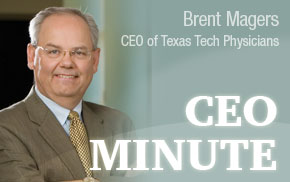 Welcome to 2014!

We certainly tune into the start of a new fiscal year, which for us, of course, is the first of September. But, it is also natural to think about the start of a new calendar year. Most everyone, I have found, likes new beginnings. I know I do. I hope you had a good holiday break and are back and ready for what lies ahead. If 2014 sees the changes and challenges that are anticipated, it will be a fun ride. I am sure there will not be anything we cannot handle if we work together in 2014.

As we think about facing the challenges ahead, it is good to take a realistic personal inventory. Know thyself type thinking. To help in the exercise of thinking holistically and doing a self inventory, here are some questions that I have asked myself and I hope they are helpful to you as well:

Emotional. What am I passionate about? Do I enjoy what I do here at Texas Tech Physicians? What would kindle (or rekindle) my passion toward work? For example, one of our associates was telling me about his goal to obtain a black belt in Six Sigma — he is excited about this and thinks it will help him in his work. It is neat to see his enthusiasm.

Mental. Where am I the most knowledgeable, skilled and competent? Am I using those competencies here? TTUHSC has a wealth of free classes available online for enhancing our skills. HR can explain how to access these. Plus, Texas Tech Physicians is setting up some new training classes. Watch for announcements soon. What do you want to study in 2014?

Physical. Am I reasonably healthy? Do I feel financially secure? Do I feel safe here? We know exercise and diet are important, as well as managing our finances. Being alert to our surroundings and reporting unusual activity to TTUHSC Security is part of having a safe workplace.

Spiritual. What would make my work more meaningful to me? Is my work consistent with my values? Does my contribution here fit with my sense of purpose or direction? Does my work give me a sense of authenticity/integrity? One thing to consider along this line — we all want to be part of something lasting and bigger than we are, and Texas Tech Physicians is well on its way to being a top-tier medical practice in America.