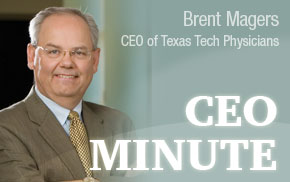 I hope you enjoyed having last Monday off for Martin Luther King Jr. Day. It is a blessing our employer provides this day. Furthermore, it is appropriate, in my opinion, that we celebrate the Rev. Dr. Martin Luther King's birthday as a national holiday. TTUHSC School of Medicine, at our heart, is about educating people to serve in vital health care roles in our country, doing transformative research to help society, and assisting people in our region with their health care needs. Ours is a noble work — what a privilege to be a part of something big and important.

King sought to improve America and I believe that he did. Just as you probably do, I remember studying his "I Have a Dream" speech in college. If you have not listened to it in a while, it is worth watching on the Internet. Experts almost all agree it is one of the finest pieces of oratory this nation has produced. And, as we think of great people —another leader comes to mind and that is the late Nelson Mandela.

The two leaders had much in common, which leads me to what Mandela said of King.

"Let the strivings of us all prove Martin Luther King Jr. to have been correct, when he said that humanity can no longer be tragically bound to the starless midnight of racism and war. Let the efforts of us all prove that he was not a mere dreamer when he spoke of the beauty of genuine brotherhood and peace being more precious than diamonds or silver or gold. Let a new age dawn."

Two great men who expressed profound thoughts.