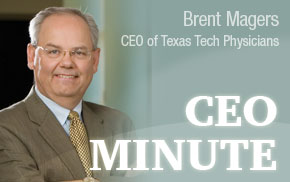 Not too long ago, I was having lunch with some folks at the Rawls Golf Course Clubhouse. It is close to campus and they serve good food. That particular day, Coach Bob Knight was also eating there.

If you know anything about college basketball, you know Knight, regarded by many as one of the greatest coaches of all time. He won 11 Big Ten titles and three NCAA championships at Indiana University and coached the U.S. team — Michael Jordan was on it — that captured the gold medal at the 1984 Olympics. After 43 years of coaching, Knight retired from Texas Tech in 2008.

This column is not about basketball (which I do enjoy — go Coach Tubby Smith); but about Knight's book "The Power of Negative Thinking." The title is catchy because it runs counter to most advice from this genre of business books. Knight defines negative thinking as "recognizing, addressing and removing obstacles to winning." He talks about preparation and the elimination of mistakes. "Having the will to win is not enough," he writes. "Everyone has that. What matters is having the will to prepare to win." Victory, he insists, "favors the team making the fewest mistakes."

For example, consider those individuals who are critical of new projects and ideas. They do serve a purpose. Not every new idea is good — all ideas should be seriously vetted. A qualified scientist understands that skepticism is essential to good science.

Furthermore, a case can be made that it is good to be cautious, even in execution. The night before NASA's disastrous launch of the space shuttle Challenger in 1986, some engineers urged the flight director to delay the launch because they were concerned the cold weather forecast for the next day would cause problems with the rubber O-rings that sealed joints in the solid-fuel booster rockets. NASA launched the shuttle on a bright, cold January morning and the O-rings failed. The resulting catastrophe killed seven astronauts. (I still remember distinctly watching the news reports that morning from the boardroom of Methodist Hospital, now Covenant, with my colleagues.)

What is my point? Is it to be negative and against everything? No. But, we do need to listen to all voices. During the decision-making stage, all voices must be heard and thereby, in the words of Knight, become the team that makes the fewest mistakes. I will say, however, that once a decision is made—we all need to "put our backs" into accomplishing whatever has been decided. Have a great week!