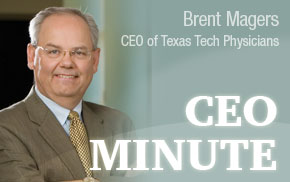 The practice of safety is commonly underappreciated, and fits into a, "Don't know what you've got till it's gone," category. In 1999, an alarming hospital safety report shocked the health care industry, estimating that as many as 98,000 patients were dying in our nation's hospitals each year due to preventable medical errors. I presented this report entitled, "To Err is Human," by the Institute of Medicine (IOM) to the hospital board where I was serving as CEO at the time. Along with the rest of the health care industry, we were very concerned. Safety improvement programs were implemented immediately, as was done in most hospitals around the country following the release.

Industry efforts across the nation since that time, while a bit spotty, do indicate that attempts to improve patient safety appear to be paying off in select problem areas in hospitals. For example, a recent report indicated a reduction in catheter-related bloodstream infections. While any progress is good, there are clearly still a number of issues to be addressed, and there probably always will be. Our faculty is active in patient safety improvement efforts as one of our most important responsibilities in the hospitals where we work.

At Texas Tech Physicians, we have been tracking a number of safety performance measures since about 2007. Unfortunately, the IOM report did not track errors in ambulatory settings, skilled nursing facilities and elsewhere. So, we felt it was important to do this ourselves. The first step in that process was to determine which measures were valuable to study. This was not an easy task as quality health care has come to mean different things to different people. From satisfaction with service to the clinical outcome of the patient's treatment, we worked through various possibilities with our faculty and MPIP leadership to develop the measures we felt were important to track.

Once we had measures in place, then came the very laborious task of data compilation; sifting through paper medical records to identify problems and opportunities. In essence we went from a horse drawn carriage to an automobile with the adoption of the Cerner Electronic Health Record (EHR). With recent enhancements in the EHR, we are now been able to better automate data capture in a way that is efficient, consistent, and affordable. I believe that we will continue to see improved efficiencies in 2015 as Cerner promises further improvements. In our meetings with Cerner they have said that they are focusing research and development energy on quality measurement, as they should be.

The IOM report, defines quality as "the degree to which health services for individuals and populations increase the likelihood of desired health outcomes and are consistent with current professional knowledge." I am sure some of the leading thinkers in the quality movement participated in formulating this definition. Upon its reflection, there are three basic quality-of-care issues that stand out to me: overuse, underuse and misuse. Are we doing too much, too little, or are we doing things that literature and evidence do not support as state-of-the-art, evidence-based medicine? In that regard, I think we do an excellent job. However, we are involved in the practice of medicine and it is a journey that we will continually be on as long as human knowledge and technology progress.