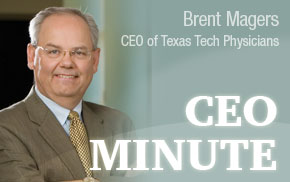 In September, my wife and I had the opportunity to travel to Washington, D.C. She needed something from the drugstore, so I stopped by a CVS Health near our hotel to pick up what she wanted. While there, I took notice of the in-store CVS/minuteclinic, which I had not seen before in any of their Lubbock locations. CVS/minuteclinic is the first walk-in clinic of its type, and the leading retail medical clinic provider in the nation.

These clinics are of interest to me because they support a theory I recently talked about with a class of M.D./MBA, and Pharm.D./MBA candidates. We studied a book that addresses this ultra-convenient clinic model in a book written by Harvard professor, Clayton Christensen concerning what he dubs, 'disruptive innovation' in health care. John Converse Townsend of Forbes Magazine illustrates, "Disruptive innovation simply describes how industries transform to provide increasingly affordable and conveniently accessible products and services to consumers."

Dr. Christensen believes that retail clinics represent an important new model of delivery because of their simplicity, convenience, accessibility and affordability, and he may be right. CVS/minuteclinics claim they have cared for more than 20 million patients with an impressive 95% customer satisfaction rating. For the purposes of comparison however, it is important to take into consideration the limited scope of services provided, along with the unique nature of their model.

Back to Washington, DC, my attention was drawn to the fact that the clinic was very busy, and people were moving in and out quickly. It had a "menu-style" posting of services provided, along with the charge for each service. It was abundantly clear that the whole experience was meant to be patient-centric, including the extended hours.

In 2015, CVS/minuteclinics in Washington, D.C. and Maryland will integrate their electronic health records (EHR) with 10 area hospitals and 4,000 area doctors. When someone receives care at a CVS/minuteclinic, it will be entered in the patient's EHR for his or her doctor to see, and vice versa. The objective is to create an arrangement where information is readily available, resulting in improved care.

At Texas Tech Physicians, we have been brainstorming about ways to have data from local retail clinics recorded in our EHR for clinical and quality purposes for services such as flu shots. This would reduce the time in clinic by decreasing the number of questions being asked of the patient and is helpful in meeting quality metrics. It makes me wonder if there is an opportunity for Texas Tech University Health Sciences Center to provide this valuable service to the citizens of this region by uniting providers across our vast service area with the providers of Texas Tech Physicians.