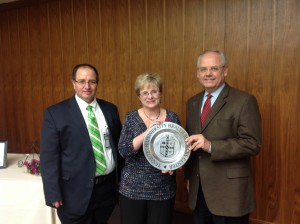 Jimmy Williams, Interim Managing Director of the Texas Tech Physicians Business Office (left) and Brent Magers, Executive Associate Dean and CEO of Texas Tech Physicians (right) present Carolyn Bennett (center) with a pewter plate from Texas Tech University Health Sciences Center for 15 years of loyal service in the Lubbock Texas Tech Physicians Business Office. She is retiring as Medical Billing Associate Supervisor.

"Carolyn has been an excellent employee over the years that she has been with us, and we wish her only the best in retirement," said Magers.

In addition to the plate, Carolyn received numerous accolades from people with whom she has worked, as well as a Letter of Recognition from TTUHSC President Tedd Mitchell. Her last official day is December 30.