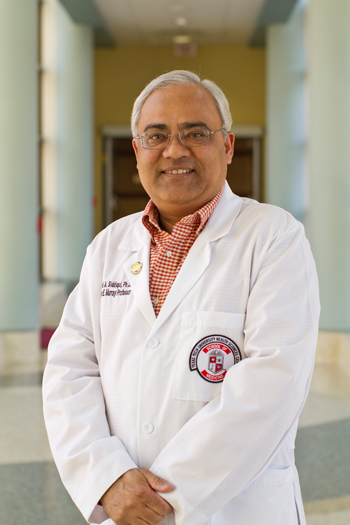 Professor Afzal Siddiqui, Ph.D., recently received a grant from the Bill and Melinda Gates Foundation to develop a schistosomiasis vaccine.

TTUHSC received a grant for schistosomiasis vaccine research from the Bill and Melinda Gates Foundation. Afzal A. Siddiqui, Ph.D., a Grover E. Murray Distinguished Professor at the TTUHSC School of Medicine, received the $2,849,281 grant for his research, Proof of concept trial of Sm-p80/GLA-SE schistosomiasis vaccine.

President Tedd L. Mitchell, M.D., said this is the first grant from the Bill and Melinda Gates Foundation awarded to anyone in the Texas Tech University System.

"Dr. Siddiqui's approach is to develop a vaccine that resolves the pathology," Mitchell said. "This vaccine is intended to prevent infections as well as treat existing infection and has the potential to impact the lives of one billion people."

Siddiqui has studied schistosomiasis for 20 years working to develop a vaccine. The disease, which affects more than 200 million people, is not found in the U.S. but is endemic in 74 developing countries. An additional 800 million people are at risk of contracting schistosomiasis.

"This will be a vaccine for the world, and it's being developed by a researcher at Texas Tech University Health Sciences Center in Lubbock, Texas," said Texas Tech University System Chancellor Kent Hance. "We are very proud of Dr. Siddiqui for all of his hard work that will impact millions around the globe."

According to the National Institutes of Health, a person gets a schistosoma infection through contact with contaminated water. The parasite swims freely in open bodies of water. Once contact is made with humans, the parasite burrows into the skin, matures into another stage, and then migrates to the lungs and liver, where it matures into the adult form. Siddiqui said detection of calcified schistosome eggs in Egyptian mummies from the 20th dynasty (1250-1000 BC) tells us schistosomiasis is an ancient disease.

"Major pathology of schistosomiasis is due to immunological reactions to schistosome eggs trapped in tissues," Siddiqui said. "Continuing infection causes enlargement of the liver and blood in urine. We see pictures of children from Africa with bulging bellies because of this disease."

Despite mass treatment with drugs, infection rates continue to rise. Durable and sustained reduction in the disease spectrum and transmission can only be obtained by long-term protection through vaccination.

Siddiqui, who also serves as the director of the TTUHSC Center of Tropical Medicine and Infectious Diseases, collaborated with Steven G. Reed, Ph.D., president and chief scientific officer of the Infectious Disease Research Institute in Seattle and Darrick Carter, Ph.D., vice president of adjuvant technologies at the Infectious Disease Research Institute.

"The Infectious Disease Research Institute is excited to be a part of this important project, which fits nicely into our global health mission," Reed said.

Steven L. Berk, M.D., executive vice president, provost and dean of the School of Medicine, said Siddiqui is an individual of extraordinary value in parasite immunology and vaccine development.

"Although this disease is not seen in the U.S., this should concern everyone," Berk said. "Parasites can be seen in our military members and people traveling internationally. With this research, Dr. Siddiqui hopes to have his vaccine in clinical trials in the next few years, which will have a huge health and economic impact for many people across the world."

Siddiqui holds several prestigious awards and appointments to local and national positions of honor, including a Fulbright Research and Teaching Scholarship for Southeast Asia.

Siddiqui also is funded as a principal investigator by the National Institutes of Health and has obtained more than $4 million in peer-reviewed funding in the past five years.