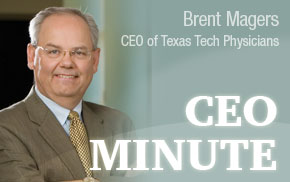 Last week was busy for me. On Thursday, I attended a meeting of the board of directors of the Institute of Health Care Quality and Efficiency in Austin. Speaking at the meeting was Dr. Donald Wesson. You may remember him as former chair of our Department of Internal Medicine. He is now chief academic officer of Scott and White and vice dean of the Texas A and M Health Science Center College of Medicine's Temple campus.

Wesson is also the incoming chair of the foundation of the American Board of Internal Medicine. I had a chance to talk with him during and after his presentation. He is promoting Choosing Wisely, a campaign designed to encourage patients and physicians to evaluate and possibly skip medical tests and procedures of dubious value in certain circumstances. The example Wesson gave is the old standby EKG. He said the conversation between a patient and physician often goes like this: "I've listened to your heart and there are no indications of cardiac problems. You yourself report no problems. But, I am going to order an EKG."

The campaign is about getting both parties to ask "Why?" One might say, "An EKG is not that expensive — better safe than sorry." But, think about how many EKGs are done every day in America. At some point, we have to start being good stewards of the abundant resources we have been given. I am not the one to ask about the appropriateness of tests — I have no idea. But, when the internal medicine board speaks up, well, I listen. You can read more about Choosing Wisely at www.ChoosingWisely.org.