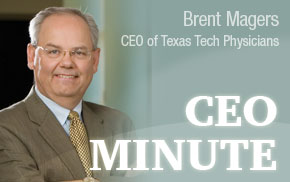 This is a great time of the year. The weather is beautiful and we are about to go into a period of several holidays … starting this week with Halloween. Experts tell us Halloween is second only to Christmas when it comes to Americans spending money for the occasion. This makes the retailers happy. But, we are not retailers, we are Texas Tech Physicians, and this is supposed to be a serious column, so I am going to attempt to tie Halloween with staying healthy.

For one thing, with Halloween comes the flu season. Everyone age 6 months and older should get a flu vaccine. We are offering flu shots, so if you have not received one, please go to the Infection Prevention Office (Diane Baker's office) at 1AB099 between 8 a.m. to 4 p.m. Monday-Friday. Getting vaccinated each year provides the best protection against influenza. Boo to the flu.

Another good thing to do is wash your hands. Scare away those germs. Keeping your hands clean helps you avoid getting sick and spreading germs to others. Soap and clean, running water for 20 seconds will shoo away the toughest germs. If no water is available, use alcohol-based hand rubs.

Finally, a couple of more things … don't go batty for sugary treats. And, remember to dress warmly — it might be cold Thursday night.