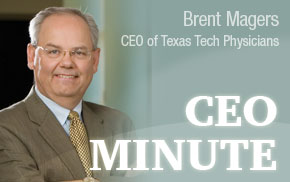 The Meat and Greet was a wonderful event (I am told) and even brought rain. My younger son graduated from an out-of-town college that weekend, pulling me away from our TTUHSC activity. We may need to start hosting these events more often if rain comes along with them. I think our Office of Institutional Development could line up about 100 farmers to fund such rainy events. I would like to give a big hand to Bill Henderson and the members of the People Development COPIC for organizing the barbecue — well done.

Events like the Meat and Greet are just plain fun. But, they also serve a purpose — we get to visit, eat and recognize people who go out of their way to exhibit our SPIRIT values:

Service Excellence
Patient First
Integrity
Respect
Innovation
Teamwork

Our values remind us how we have pledged to treat each other. Our values are the fundamental beliefs of Texas Tech Physicians. These principles are our goals. They represent our noble and important aspirations.

It is interesting to see how all the pieces work together, for example, when we create a great work environment, it makes everything else click along as well. I think we should be every bit as concerned about employee satisfaction as patient satisfaction — in fact, the two have a high degree of correlation.

So, congratulations to all of the SPIRITAward winners. Furthermore, a big thanks to each of you for your service to the great cause in which we find ourselves engaged —Texas Tech Physicians.