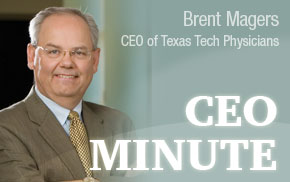 "The reality of trying to solve a wicked problem [like health care] is that action of any kind presents risks and uncertainties. Yet so does inaction. All that leaders can do is weigh the possibilities as best they can and find a way forward. They must want to make the effort, however. That's a key factor."

— Atul Gawande, M.D.


One of the many great benefits about being a part of the TTUHSC School of Medicine family is the students. Talk about wanting to make the effort — this group is ready, willing and able. They are more than just bright — they are also engaged and ready to take on the world. And it has to be this way, right? I mean if our youth are not idealistic, who will be?

Last Wednesday night, I visited the TTUHSC Free Clinic that our students operate with help from the faculty. It is really inspiring to see all of the activity and service to society that occurs there. This weekly clinic serves individuals who might not otherwise receive care, and believe me, it is a beehive of positive activity and energy.

So, when I say our medical students are idealistic, I mean that as a compliment of the highest order. I talk to many of them and enjoy doing so. They tell me they believe our fractured health care system can be reformed, reconstituted and retooled to serve a new generation. I am not going to tell them otherwise — and indeed, I, too, believe we can change things for the better.

A researcher surveyed 1,232 medical students at 10 schools across the nation about their views of the Affordable Care Act (ACA) and four out of five students (80.1 percent) indicated their support. Now, you might say, ACA is not the answer, and it is not, in its entirety (it will have to modified as we go along), but it does represent shaking up the status quo in search of something new and better. If I have learned one thing in my 32 years in health care administration, it is this — the model we are following is not sustainable. We need to reward providers that improve the health and overall well-being of individuals and entire communities. TTUHSC Free Clinic is a start and our students are making the effort.