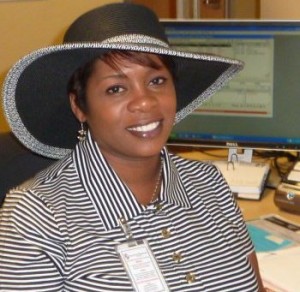 Charlotte Murphy is a member of the Patient Services Specialists Team at Student Health Services. Murphy's official title is senior patient services specialist and she has been a member of the Student Health Services team since 2006.

Murphy's main role at Student Health Services is to make sure each patient that leaves the clinic has checked out and has all the information they need for their care. She also schedules follow-up appointments and regularly answers the appointment phone line. Murphy plays a critical role at Student Health Services because her smiling face creates a very positive and lasting impression on patients as they go through the check-out process and head home to get well.

Murphy is a hard worker and is beloved by the entire team and is a role model to all staff through her positive and kind demeanor. She often arrives early to work to prepare the front desk for the day. She has a wonderful work ethic, attitude and sets the standard for others to follow.

This past summer, she worked as a representative for Student Health Services at Red Raider Orientation. Thousands of incoming freshman and parents came to the Red Raider Orientation sessions, and many experienced Murphy at the Student Health Services table. Her welcoming face and smile helped calm anxious parents worried about their student's medical care away from home. This is just another example of the positive lasting impression that Murphy leaves on all patients and staff.